Ospreys Schools Programme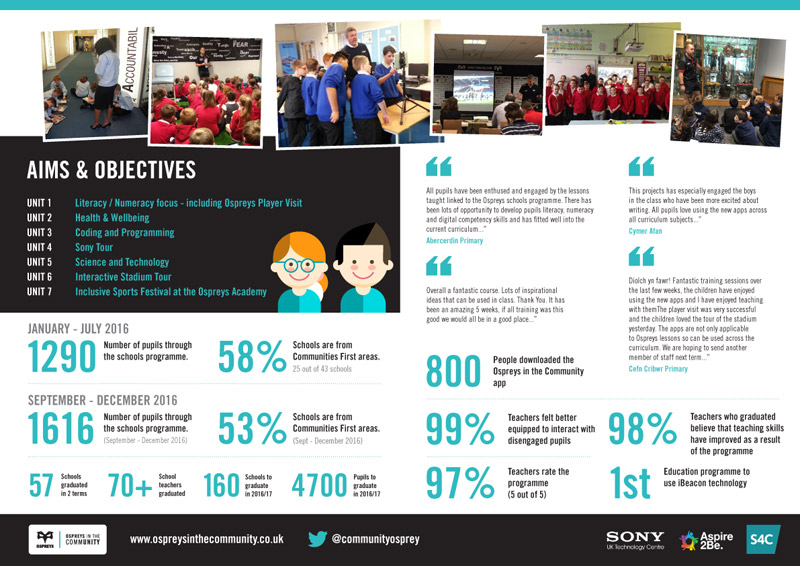 As one of the four pillars behind Ospreys in the Community the Ospreys Schools Programme supports the education aims of the foundation. Operating within the unitary authorities of Swansea, Neath and Port Talbot and Bridgend. 
One of the Foundations 4 strategic pillars is Education and we are proud to announce the launch of a new 3 year program for key stage 2 pupils. The program is in partnership with Aspire 2Be. We understand that schools are currently operating with stretched resources, which is why we have designed the new program to fit into the new curriculum areas and have ensured Literacy, Numeracy and Digital Competences are at the heart of the programme as well as bespoke and high quality training for staff in these areas. This programme is not something extra that has to be delivered by teachers or schools but can fit in to your current topics and termly plans.
The programme's key objective is to help the Ospreys deliver an effective and inclusive education programme. This programme is non gender specific, fully inclusive and extremely innovative. The key areas of the programme are focused around - 
Unit 1 - Literacy / Numeracy focus - Player Visit
Unit 2 - Health & Wellbeing 
Unit 3 - Coding and Programming
Unit 4 - Sony Tour
Unit 5 - Science and Technology
Unit 6 - Stadium Tour Preparation
Unit 7 - Inclusive Festival at the Ospreys Training Facilities
SONY UK Technology Centre provide pupils with the opportunity to learn about local engineering prospects. The Sony unit covers an interactive visit to the factory in Pencoed to see the latest technology as it's built.
This education training programme is delivered by Aspire 2Be and is completely FREE for all schools within the Ospreys region. It uses the Ospreys brand, statistics, resources and facilities as the core content. Training sessions will be provided for the teachers (one half day per unit for the first 5 units) followed by the education/tag festival at the end of the programme.
Please click here to view feedback from teachers who have been on the Ospreys Schools Programme.
For more information, contact:
Nick Lockley
Email: nick.lockley@ospreysrugby.com
Tel: 01792 616505