Ospreys in the Community Rugby Camps are back for the summer holidays, powered by Lovell Rugby over the coming weeks.
This summer, no less than seven camps will be hosted at four different venues across the region, providing opportunities for youngsters from 6-16 with the opportunity to enjoy rugby, learn new skills and make new friends, whatever their abilities.
One day camps for 6-12 year olds will be held at Archbishop McGrath, Bishopston and Ystalyfera Schools, while Llandarcy Academy of Sport is the venue for a three day camp and a special half day senior camp for 13-16 year olds focusing on pre-season, recovery and endurance.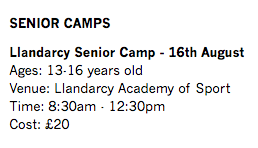 Our camps are delivered by qualified Ospreys coaches, with professional rugby players on hand to join in at selected camps and coach the youngsters at certain points through each day. While children will be taught the latest skills and techniques, the main focus is on enjoyment, learning to love the game of rugby and understanding the values of our sport.
Please note that payment must be made in full at the time of booking to secure the place as demand for places on the camps is high.
The 3 day Ospreys Junior Camps based at Llandarcy Academy of sport include:
• MEET and PLAY with Ospreys players (day subject to training)
• An opportunity to training at the Ospreys training ground.
• Excellent qualified coaching staff with full DBS check
• An opportunity to have fun, develop new skills and make new friends.
• Ospreys Goody Bag
• Photo and Autograph opportunities
The 1 day Ospreys Outreach Junior Camps include:
• Excellent qualified Ospreys coaching staff with full DBS check
• An opportunity to have fun, develop new skills and make new friends.
Important Camp Information:
Please ensure all medical forms have been completed online for each child attending the camp.
Please ensure a packed lunch, water and dry, warm clothing for each day.
SENIOR RUGBY CAMPS
The 'senior' camp is for 13-17 year olds, with participants experiencing nutrition and lifestyle management workshops as well a position specific and tactical and technical coaching. The course will give young rugby players a real insight into what it takes to become a pro rugby player with their region as Ospreys in the Community coaches share the same techniques used by the senior regional counterparts.