Players and staff at the Ospreys have undergone their annual flu vaccination to help keep them well this winter.
They were joined at their Llandarcy Academy of Sport training base by Ali Sparkes, Director of the award winning Neath based The Health Dispensary, whose passion is to inspire people to feel and think better so that our world becomes more healthy, happy and hopeful.
The Health Dispensary were delighted to supply this year's vaccine, for team doctor Simon Davies to carry out the vaccination.
Ali Sparkes said:
"I'm delighted to have been invited along to Llandarcy to oversee this year's vaccination. It's wonderful to see that both management and players take their health so seriously and fully understand the negative impact on the business of the flu virus.
"If it's good enough for the Ospreys then it's good enough for you, so make sure you stay well this season and get your flu vaccination."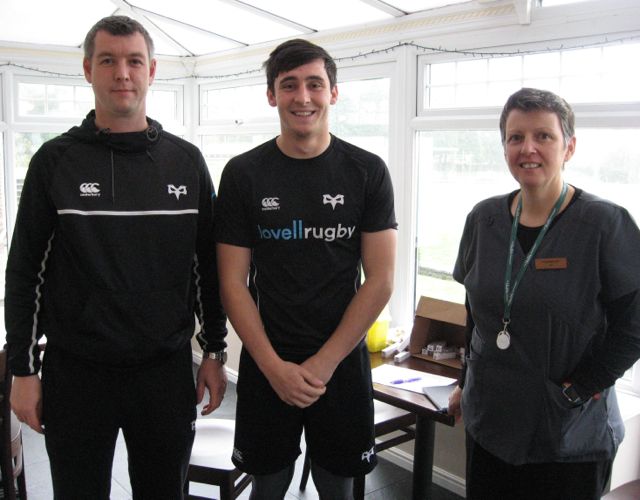 Simon Davies, Lead Doctor, Ospreys Rugby, Sam Davies and Ali Sparkes, Director of The Health Dispensary 
Most people who are fit and well recover fully from flu, but in some cases it can cause serious illness leading to hospital treatment, especially in children, pregnant women, those who are elderly, have a chronic condition or a poor immune system.
Spread by a virus from person to person, it often leads to high temperature, aching muscles and feeling pretty unwell.
In the normal population this is a hindrance and usually leads to time off work and bed rest - for professional athletes it is a cause of concern as the after-effects can last more than the usual 7 days and hamper performance.
A long-term commercial partner of the Ospreys, the Health Dispensary currently provide all of the region's medication needs across the season.
Wayne Hall, Head of Sales, Ospreys Rugby, commented:
"It's fantastic that we have local expertise in the form of Ali and her colleagues at the Health Dispensary to meet all the needs of the medical department here at the Ospreys. Their assistance enables Chris Towers and his team to provide the outstanding support they do, looking after the health and wellbeing of the players all year round, not just at this time of year when people start to think about flu bugs.
"We are really grateful for that support and appreciate the assistance in providing these very important vaccinations."