Members of the Gowerton RFC Girls team had some extra help recently, when Cory Allen and Nicky Smith joined them for training at Llandarcy thanks to Ospreys commercial partners, Dezrezlegal.
Thirteen players took part in the special pre-season session with the Ospreys pair, and they certainly made a positive impression on the training paddock with centre Cory commenting:

"I've never seen a group of players that love contact so much. It's great how physical they are, they're also listening and looking, staying alert. And some seem particularly sharp; there's one full back running harder than Shane Williams".
The session came about after SA1 based conveyancing firm Dezrezlegal, which sponsors the Ospreys, ran a Facebook competition to win a shirt signed by all the players along with a training session. The online competition reached 78,594 people with the chosen-at-random winner being the mother of 14 year old rugby mad Tyler Lipscome.
Tyler loved the experience: "It's been a really good afternoon, fun but not too tiring" she said while recharging on a bag of jelly beans. "We focused a lot on practising double tackles and how to communicate with your team mates whilst doing the manoeuvre."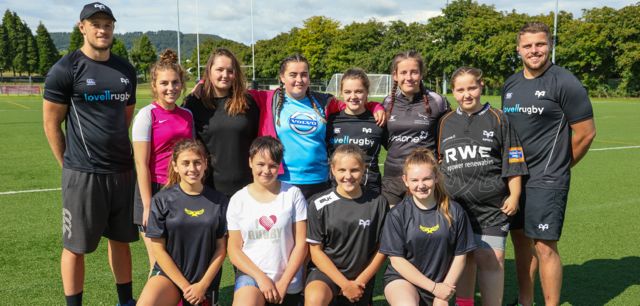 Although Tyler only took up rugby earlier this year she is already playing four times a week and along with two friends, is mid-way through the selection process to join the Ospreys U18 girls team.
Wayne Marshall, who coaches Tyler's team, Gowerton RFC, says that the club has seen a huge increase in numbers in the last few years, reflecting a countrywide surge - figures from 2015 show that in the space of one year, the number of girls playing rugby in Wales had increased by a huge 676%.
Prop Nicky Smith is also firmly behind encouraging more girls into the game: "When I was younger there used to be a fair few girls playing rugby and then it seemed to die down. Hopefully things are picking up again. It's been great training the girls today, focusing on adding a bit of razzle to their game".
Alongside the clear fitness benefits of getting involved in the sport, it clearly offers a great deal more with Melanie, Tyler's mother saying: "Since starting playing rugby earlier this year Tyler's confidence has gone up hugely. It's been amazing for her."
While Angela Marshall, mum to Tyler's teammate Ffion said: "Ffion started playing at 9. Now she's 13 and rugby is her world, she loves every aspect of the game. It's also given her an opportunity to meet people outside of her school and widen her social circle."
Laura Liddell, Managing Director at Dezrezlegal added: "I'm so pleased that the competition was won by someone that would get so much out of it. Conveyancing is a very female led industry – out of our 43 staff, just 4 are male so I'm always keen to hear about ways to build girls' skills and confidence.
"Working as part of a team the way that the Gowerton RFC do is a great way to build team working skills and trust. Whether they end up on the professional rugby pitch or even in conveyancing, I'm sure the team will go far."