A leading Welsh technology company, Symltech, has teamed up with the Ospreys, committing to a new commercial partnership that will see its company name featuring on the region's jersey .
Having initially signed up for membership of the Ospreys Executive Club last season, the relationship has developed rapidly, with Symltech now set for the increased brand exposure that comes with being on the second biggest selling club or regional jersey in the UK and Ireland. 
The Symltech name will be placed on the left shoulder of both home and away shirts for the next two seasons. 
Yarnie Guthrie, Ospreys Commercial Manager, said:
"Just as we talk, as an organisation, about a development pathway for players and coaches, we like to look at our commercial partners in a similar way. It is important to us that we look to grow all commercial relationships into long-term partnerships and Symltech are a wonderful example of how this works, with the relationship growing from matchday hospitality to shirt sponsorship.
"Symltech is a forward thinking, innovative and ambitious company, characteristics that we share here at the Ospreys, and we look forward to working closely with them over the next two seasons and beyond."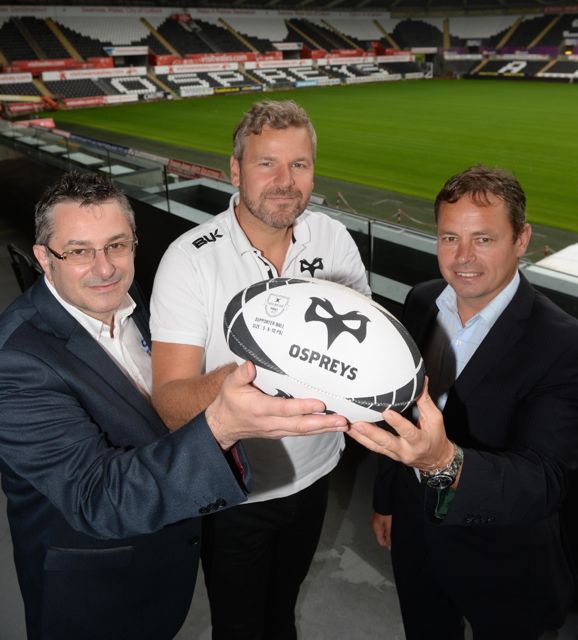 Based in Capel Hendre, Ammanford, Symltech was formed in 2003, developing a revolutionary mobile platform software system designed to manage resources and automate billing in service based industries.
The software was designed from the ground up to meet the needs of a range of mobile workers and is so flexible that it can be used to manage any business where services are supplied by teams/individuals working remotely without any need to return to the office for instruction or paperwork.
The system integrates advances in communications and navigation technology such as PDA/phones, mobile Internet and GPS tracking to deliver a range of immediate business benefits for any company.
Smyltech has successfully implemented its Glimpse system with a wide range of organisations including: RNA Plant, FireRite, and Ceredigion, Pembrokeshire and Northamptonshire County Councils.
Neil Amstrong, Managing Director, Smyltech, added:
"We are incredibly excited about the prospect of seeing the Ospreys in action next season with our name on their shirts. Having experienced the Executive Club last year and seeing for ourselves the proactive way that they work with commercial partners, we recognised that the Ospreys are a business that we wanted to work with.
"We see the Ospreys, and this sponsorship, as providing us with a fantastic platform to grow our business, not just within in Wales but across the whole of the UK."
Pictured with Yarnie Guthrie are Neil Armstrong and Nick Beckett from Symltech