After his brace of tries helped the Ospreys to a bonus point win over Zebre, Eli Walker's focus is now entirely on the European Rugby Champions Cup opener against Exeter Chiefs this Sunday.
Winger scored two tries in the Ospreys bonus point win over Zebre at the Liberty Stadium, his first of the season for the region

The Ospreys scored six tries in all in the much needed PRO12 win 

Next up for the Ospreys is a tough European Rugby Champions Cup opening round clash with Exeter Chiefs at the Liberty this Sunday (5.30pm KO)

Exeter currently second in the Aviva Premiership with three wins from four games, after ending Leicester's unbeaten start last weekend
The 23-year old crossed once in each half for his first tries of what has been for him a stop-start season due to injury and international calls, but now he is back firing in an Ospreys shirt he is eager for more after finding his form.
"I spoke to Gruff and I was probably trying to chase things too much since coming back" said Walker.
"He told me to take a step back and let them come to me and that was the case against Zebre, I kept my width and the chances came.
"It was really tough over the summer. The camps were gruelling but it was great to be in that environment. It was a downer not to get picked but the coaches told me not to get on too much of a downer because you never know what can happen with injuries. Lo and behold a few guys were unlucky and I was back in, only to pick up another injury. It was a real rollercoaster and I am happy to be back here, fit again and ready to perform consistently.
"The goal is always to perform consistently and to turn the corner. I'm looking after my body, I have matured in that regard and that is the main thing for me, to stay fit and healthy."
Reflecting on what was a much needed win for the Ospreys at the Liberty last weekend, Walker insisted that the team needs to keep improving as they prepare to face Aviva Premiership high flyers this weekend. He continued: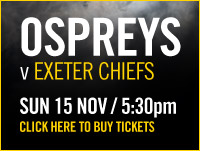 "It was a good performance, that is what we have been striving for. It's been a difficult time but we executed here. We can't point the finger at anyone, this is a collective effort. You could say the platform we had today was better than it had been but it is a collective effort and the backs will pat the forward on the back for any platform we do get.
"There was a good energy against Zebre, we have been trying to play expansive rugby and our skills have let us down with passes not clicking, but we have worked on it and it was a lot better. We want to take that into Europe, to play a bit more rugby. We are not going to throw it around aimlessly but the plan has been to bring that in and we have the talent to do that.
"Last season we caused teams a lot of problems playing that way. We probably kept the ball more last year, but it has been a theme in training as guys like Josh in midfield have the ability to offload and create space and we want to make the most of that. We need to keep the ball better, and it is within our game plan to do that, particularly in the wide areas.
"The intent has been there but we have made errors. We have fixed things up and we have reasons to be confident going forward."