Pupils at Cribarth School in the Upper Swansea Valley and Blaengwrach School in the Neath Valley recently enjoyed visits from some of their favourite Ospreys players.
The two valley Schools are both heavily involved in rugby and are signed up to the Ospreys Schools Programme, which combines rugby and education to help teachers create better Ospreylian citizens. 

Year 5 & 6 pupils from the schools have been engaged with the initiative and have been taking part in the six week programme that looks at developing both their educational and personal skills, as well as introducing them to rugby.
The programme launched in September 2012 and runs in partnership with RWE Innogy UK, Save Britain Money, Sony UK Technology Centre and the WRU. Since the start of the scheme thousands of pupils from across Ospreylia have taken part in the specially designed lessons, rugby coaching and festivals, and interactive tours of the Liberty Stadium. 
At the end of the programme, pupils are rewarded for all their hard work with a special visit to their school by some Ospreys players and a chance to quiz them on life as a professional rugby player. 
Ashley Beck and Matthew Dwyer visited Blaengwrach School while Cribarth welcomed Morgan Allen and Dan Baker. Pupils from the schools were very knowledgeable about rugby and had some great questions lined up for the boys. The pupils then had an opportunity to get some autographs and have some photos with the players, who also passed on rugby tips.
Liam Evans, WRU/Ospreys Participation Officer for the Neath Port Talbot district commented on the visits:
"Both of the Schools have been incredibly supportive of the Ospreys School programme and have got wholeheartedly involved in the scheme. The pupils have been really enthusiastic  about all areas of the initiative and were really excited to get the chance to meet the players today. Cribarth School are really active supporters of the Ospreys and Blaengwrach are currently playing in the Clarity League (a contact league in the Neath area).
"Getting out into the community is so important and is really rewarding when we come to schools such as these that are so involved in rugby as these pupils are the future supporters, and possibly even players, of the Ospreys."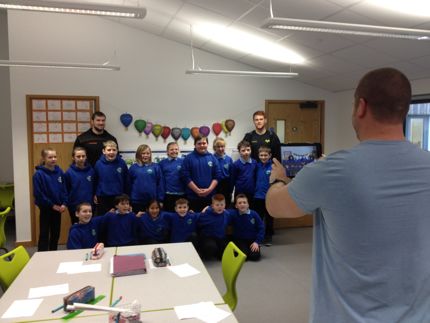 Morgan Allen and Dan Baker at Cribarth