Clermont Auvergne remains on sale ahead of Sunday while the Dragons earlybird price expires this Friday.
Full details of matches currently on sale at the Liberty Stadium Ticket Office" 
Clermont Auvergne (Cat A)
Sunday 15th October, 5.30pm
Earlybird deadline - Friday 29th September
Dragons (Cat A)
Friday 27th October, 7.35pm
Earlybird deadline - Friday 13th October
Wasps (Cat B)
Friday 10th November, 7.30pm
Earlybird deadline - Friday 27th October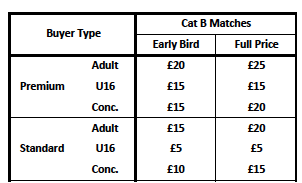 CLICK HERE NOW TO BUY TICKETS FOR ANY OF THESE GAMES...  
The new earlybird system rewards supporters who buy early with typical savings of 25 per cent on matchday admission when supporters purchase their tickets no later than two weeks prior to the game in question. 
In addition, we have also introduced a brand new, third, category of ticket to supplement the existing standard and premium seating.
The new economy category will see a strictly limited number of lower cost tickets being made available for each home match at the Liberty Stadium on a first come, first served basis, until either the Earlybird deadline or they are all snapped up, whichever comes first.