Steve Tandy hailed the character of the Ospreys after they secured a Boxing Day win at Parc y Scarlets but warned them that they need to back it up with positive performances in the coming weeks.
Tandy hails character of squad but says discipline must improve

"We have three games through this period and we need to get points on the board from all three of them. It's no good us beating the Scarlets and slipping up against the Dragons on New Year's Day and Leinster after that."
Tickets for those two games are on sale now at the Liberty Stadium Ticket Office
The Ospreys won by the narrowest of margins at Parc y Scarlets, coming out on top 27-26 in a festive thriller, and reflecting on the game post-match, Tandy highlighted the effort and spirit on display while underlining the face that indiscipline had allowed their local rivals to get a foothold in the contest. He said:
"It was a good win. It was hard fought and an outstanding effort to do that on the back of Europe, I know how much the boys have put into it and, in fairness, it's been a huge effort from us.
"There are a couple of things we would like to tidy up, but it was a test of character and I think we came through that.
"Our discipline wasn't good enough and it's something we have spoken about.
We gave away something like 14 penalties and a lot of those were in the middle third. We gave the Scarlets too many entries and cheap points, where we went off our feet or hands on the floor.
"We also haven't defended like we'd want to defend, we didn't ask enough questions in terms of the Scarlets when they had the ball in our 22 but we'll pick these things up with the boys on Monday. But, they keep recovering, keep going at it, and as a coach I'm pretty proud of my players, how they keep going about their work, how they keep battling and keep getting through things.
"The Scarlets have got a tremendous home record and I know they were putting huge importance on the game and the fact how much of a gap they could open up on us, but we've come down here, have done a job of work, and it's great to take four points home."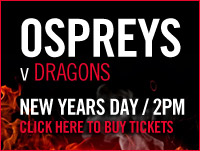 Reflecting on the game, Tandy agreed that it had been a great advertisement for the regional game and the PRO12, but said that his team can't afford to dwell on the win.
"It was a real ding dong battle" Tandy continued.
"At times we were guilty of not keeping hold of the ball long enough and, probably, a little bit of ill discipline. When we kept the ball for large passages we saw what we can do. We've got to make sure we learn from this though and start to make life a little more difficult for the opposition. But, to come to a place where not many away teams win is a positive for us.
"Boxing Day is a great affair, with a great crowd and a good atmosphere, but we've spoken about making sure we get everything we want out of the Christmas period. We've got to recover well as we've got another big game against the Dragons on New Year's Day."
Tandy admitted to a heart in mouth moment at the end as the Scarlets were handed a chance to kick to win with time up, saying:
"It goes back to our discipline, it's something where we've got to smarten up a little bit. We've given away too many easy penalties around that middle third that's given them field position, and we've given them a chance at goal at the end of the game. If we'd lost that at the end it would have been pretty disappointing.
"We can't look too far down the road. We've said all week that this game wasn't going to define us, or our season. I didn't think it was going to be a defining moment, which everyone else was saying. We have three games through this period and we need to get points on the board from all three of them.
"It's no good us beating the Scarlets and slipping up against the Dragons on New Year's Day and Leinster after that. We're starting to build a bit of momentum but if we take our eye off the ball in this league we'll get burnt.
"The Dragons are playing some positive rugby, doing some really great things in the Challenge Cup, so we can't take them lightly. We know where we need to be next weekend."
He also paid tribute to tight head prop Dmitri Arhip after his dash up the wing set-up Eli Walker's decisive score on the hour mark, rounding off another typical all action display from the Moldovan who then limped off with a tight hamstring.
"I've had a word with him and told him I'm disappointed he didn't go the length" joked Tandy.
"In fairness to him he's a tremendous athlete, to be able to scrum like he does, to get around the park and the amount of tackles he's putting in. We ask him to go week after week and he's producing performances like that. I'm just hoping now that his hammy's not too bad.
"We've got a few bumps and bruises now, Kingy's struggling with his back, Biggs' is tightening up a little bit. In fairness to the group this has been a really hard block, playing in the competitions we are, going to Clermont and Bordeaux, it does take it's toll on a squad the size of ours.
We have a small squad and I am proud of these players and how they keep battling and coming through things. It shows great character that they always seem to find a way."