Ospreys in the Community have teamed up with WRU Touch and Welsh Touch Association to launch an exciting summer of touch rugby activity for all ages and abilities.
New touch rugby leagues for summer 2016 to launch in Swansea and Bridgend

Ospreys in the Community teaming up with Welsh Rugby Union and Welsh Touch Association to jointly run the leagues

Opportunities for players of all abilities, social or competitive, with mens, womens and mixed leagues
The jointly run competitions will be held at Swansea University Sports Centre, Sketty Lane and Bryntirion Comprehensive School in Bridgend.
Over the course of the summer there will be competitive leagues for the serious players, social leagues, mixed sex competitions, mens leagues and womens and girls, with players aged 14 and up able to participate.
Aimed at growing rugby participation, the leagues serve as great introduction to the sport, a great way of spending time with work colleagues or mates, or even a competitive way to keep active over the summer months.
Ben Rose, WRU Regional Rugby Manager, Ospreys Region, said:
"It's exciting for the WRU to be promoting Touch Rugby across the Ospreys region this summer. Working with the Ospreys and WTA gives us an opportunity to target a wide group of people.
"Offering alternatives to the 15-a-side game will hopefully engage new people to try rugby as well as providing something different for our current players.
"It is really positive to be establishing a women's only league in Swansea and expanding to set up a formal touch offering in Bridgend. I would encourage all players current, past and new to get involved. Touch rugby is really a game for the whole family."
Jon Francis, Managing Director, Wales Touch Association, said:
"The WTA is delighted to be working in partnership with the Ospreys and WRU in the delivery of the leagues for this year.  The sport is growing very quickly in Wales and by all parties working together we can  increase the numbers playing the sport and add to the momentum growing in the sport.  It's is a great way for everyone to get outside, get fit and involved in playing the fastest, most skilful version of Rugby. 
"For the WTA, they are also a 'talent spotting' opportunity for those players that may target playing at representative levels for their Regions or even for Wales in the International Tournaments arranged around Europe and the World.  It's great news for all who participate."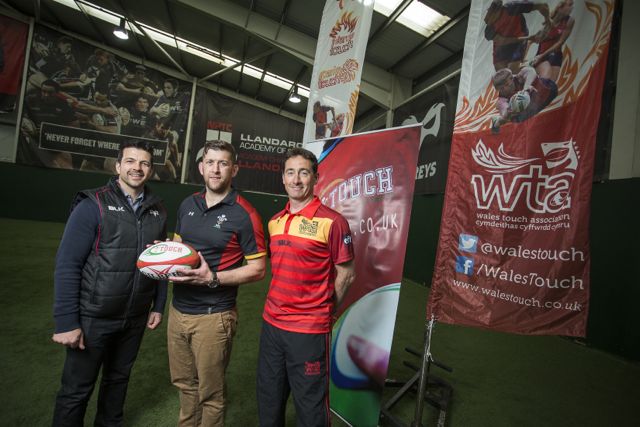 Pictured L-R are Paul Whapham, Ben Rose and Jon Francis 
Paul Whapham, Foundation Manager, Ospreys in the Community, added:
"There is a strong tradition of touch rugby in the region, with the Ospreys having worked with both WTA and WRU, collaboratively and individually, for many years, so it's fantastic that we can combine on this project.
"It's important that as partners we are always striving to grow interest in the sport and that is what's so great about our summer touch activity. Whether you are an experienced player or at 'throw about with your friends' level, a first timer, young or old, male or female, you can enjoy touch rugby this summer."
Teams can sign up via www.wrutouch.co.uk or by contacting the WRU Rugby Coordinators listed below.
Ospreys West Touch League 
Contact: Carly Smith -   womensospreys@wru.wales
Address
-          Swansea University Sports Centre
-          Sketty Lane
-          Swansea
-          SA2 8QB
Price
-          £250 (10 weeks)
-          10% discount for following
o   Hubs
o   Clubs WRU/WTA
o   Multiple teams
o   Womens teams
3 leagues (Age 14+)
-          League 1 (Mixed and Mens) – Competitive league (max 10 teams)
-          League 2 (Mixed and Mens) – Social league (max 10 teams)
-          League 3 (Womens and Girls) – max 10 teams
Dates (9 weeks):
-          May 4th (Try touch night),  11th, 18th and 25th
-          June 1st OFF
-          June 8th, 15th, 22nd and 29th
-          July 6th OFF
-          July 13th
Ospreys East Touch League
Contact:  Liam Scott -  lscott@wru.wales
Address
-          Bryntirion Comprehensive School
-          Merlin Crescent
-          Bridgend
-          CF31 4QR
Price
-          £250 (10 weeks)
-          10% discount for following
o   Hubs
o   Clubs WRU/WTA
o   Multiple teams
o   Womens teams
2 leagues (Age 14+)
-          League 1 (Mixed and Mens) – Competitive League (max 10 teams)
-          League 2 (Womens, Mixed and Mens) – Social league (max 10 teams)
Dates:
-          May 4th (Try touch night), 11th, 18th and 25th
-          June 1st OFF
-          June 8th, 15th, 22nd and 29th
-          July 6th OFF
-          July 13th