Ospreys supporters will once again benefit from the "best value deal" in UK rugby after the region today announced details of their 2015/16 season membership packages.
Existing members benefit from a price freeze for the second year in a row with membership costing less than it did ten years ago when the Ospreys first moved to the Liberty Stadium.  

Existing members have until 10th May to benefit from the special earlybird renewal price of just £99 (standard seating) with renewals for premium seating also frozen at just £160 – less than the price of a standard membership three years ago.* 

As the club aims to expand and broaden its membership base, existing members can also save even more money through the new 'Bring A Friend' scheme. 

For every friend a current member refers they will get 25 per cent off their membership. With a maximum of four referrals per person, this could potentially mean a season of free rugby for many fans.* 

The club will also be rolling out a number of exclusive incentives and benefits for those who have been loyal members for every season during their 10 years at Liberty Stadium.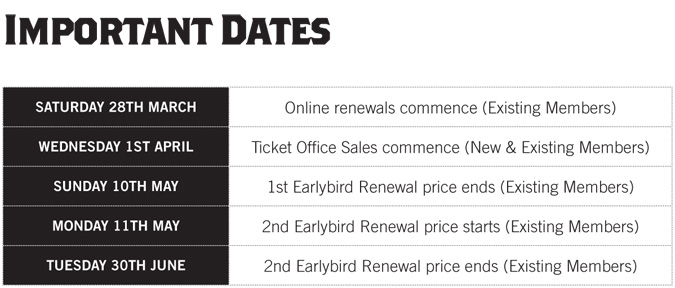 Ospreys CEO, Andrew Hore, said: 

"Our season members really are the lifeblood of the club. We always look to reward those have invested their hard earned money into the Ospreys and supported us through thick and thin. We are extremely grateful for our fans' ongoing support, so to be able to offer them the opportunity to support the Ospreys for less than it cost ten years ago is our way of saying thank you.

"There is real excitement around our environment at the moment. Steve Tandy and his coaching team are doing an incredible job to ensure that we go into the final weeks of the season well placed to qualify for the play-offs again. We have a young squad, packed with home grown talent that are really making an impression in an Ospreys shirt, supplemented by genuine world class individuals, many of whom have come through our development pathway. 

"We have also strengthened considerably ahead of 2015/16, with quality players like Paul James, Brendon Leonard and Gareth Delve adding a real core of experience to the group, while we are also looking to add one or two more players to help increase the strength in depth that will allow us to compete on all fronts.

"It really is a great time to be an Ospreys supporter. With the best value deal in British rugby, I genuinely believe we will see huge demand for 2015/16 memberships."

The Kids Plus scheme, introduced for this season with huge success, will once again allow our younger supporters to combine a child membership and brand new BLK Ospreys jersey from just £40 – and the shirt will be personally handed over by an Ospreys player at an exclusive pre-season event.*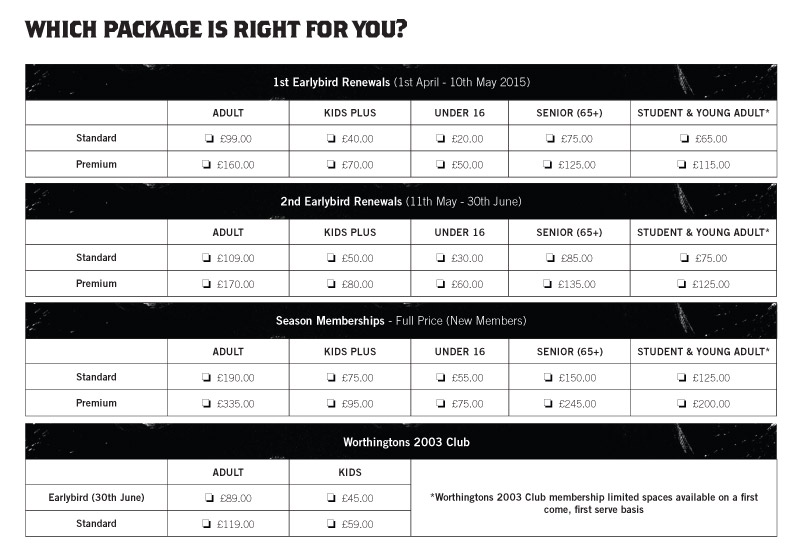 Benefits for season members include

• Admission to all regular season home matches, home 'A' fixtures and home age-grade games
• Ospreys Membership Card & Lanyard 
• Ospreys Supporters Club Membership and Pin Badge
• Ospreys Rugby Car Window Sticker
• 10% discount in the Club Shop and Online Store
• 10% discount on additional match ticket purchases
• 20% off match day hospitality*
• Fantastic discounts from an increased number of regional partners
• Exclusive member only offers throughout the season
Existing members will be able to renew online only at ospreysrugby.com/2015membership from 9am on Saturday 28th March, with the Ticket Office accepting renewals and new memberships from Wednesday 1st April.

Supporters can also take advantage of a number of credit options to purchase their full season membership – please speak to the Ticket Office directly, either in person or via the Hotline on 0844 815 6665 to discuss.*

For further information on the various packages including prices for full terms and conditions, or to renew your membership, please visit ospreysrugby.com/2015membership from 9am on Saturday 28th March 2015.

Existing season members will also receive full information through the mail over the coming week but, should they choose to, they can renew online from Saturday morning. Your current seat will be held until a later date to be confirmed by Ospreys Rugby. Existing members should retain this year's membership card as, once you renew, details will be uploaded directly onto your card, allowing you match day access to the Liberty Stadium in 2015/16.

*Ts and Cs Apply.