Saturday's PRO12 clash between the Ospreys and the Scarlets will be played out in front of the biggest Liberty Stadium crowd of the season – but you can still get hold of tickets for the BIG one.
Ospreys v Scarlets at the Liberty Stadium this Saturday afternoon, 3pm kick-off

Ticket Office is open 10-6 on Good Friday and from 10am on match-day

Buy online now at ospreysrugby.com/buytickets and print at home to avoid any matchday queues

 
It's all set to be a fantastic occasion as two old rivals go head to head at the Liberty, the Ospreys in pursuit of a Champions Cup spot, the Scarlets still holding a place in the end of season play-offs with just five games to go.
The Liberty Stadium Ticket Office is open as normal on Friday, despite it being a Bank Holiday, in order to meet demand, and you can pop in to pick up your tickets between 10am and 6pm on Good Friday, or from 10am right up until half-time on Saturday.
It is expected to be very busy at the Ticket Office on Saturday afternoon so supporters are advised that, wherever possible, tickets are purchased in advance, in order to avoid matchday queues.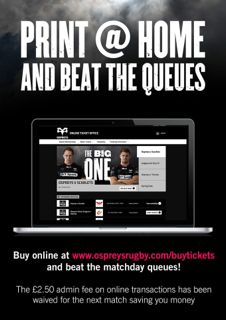 Alternatively, you can buy online 24/7 at ospreysrugby.com/buytickets and select the print at home option – the admin fee has been waived meaning there is no extra cost and you can just rock up on matchday and go straight into the stadium.
The O-Zone, the family friendly pre-match entertainment area underneath the South Stand has proven a huge success, with up to 1,000 people enjoying the interactive fun on a matchday.
For this game only, given the anticipated high demand, entrance to the O-Zone will be restricted to supporters in the South Stand only, which will act as a Family Stand for the afternoon. Season members and ticket holders located in the East or West Stand who require access to the O-Zone are able to swap seats for this game only, at no extra cost, by contacting the Ticket Office prior to matchday.
However, weather dependent, we'll have a number of activities outside the Ozone behind the South Stand, including giant slides, rodeo rugby balls and a bouncy castle as well as a special Ospreys challenge. Make sure you're down at the stadium from 1pm to enjoy everything on offer.
Buy your tickets online now and print at home at www.ospreysrugby.com/buytickets