It was a case of mixed emotions for Gruff Rees on Saturday as he reflected on a thrilling contest at Stade Chaban-Delmas that saw the Ospreys secure two crucial match points.
"We're disappointed" admits Backs Coach despite valiant effort
"It shows the character within this group, they always battle and the leaders drive that continuously" he said after watching the Ospreys roar back to secure two unlikely looking bonus points

Ospreys sit proudly at top of Pool 2 four games in but a win for Exeter in Clermont on Sunday would knock them off their perch 
After watching the Ospreys come back from the dead for a second time in France in under a month to head home with a four try bonus and a losing bonus for finishing within seven of the opposition, Rees couldn't hide his frustration despite obvious pride in the immense character on display once again. 
"We're disappointed" he admitted.
"Looking at the game, Bordeaux are a powerful outfit but I don't think they had to work for their scores. A couple of them have come from our inaccuracies when we've been trying to create some pressure of our own. We're too loose and we don't create sustained pressure for all the good in our game, and it is positive, especially the way we showed character. We feel that we allowed some of their big runners the momentum and given them two cheap tries as well. That's a game where we feel we dropped points and not gained.
"At half-time it was reminiscent of Clermont. Okay, take a breath, pull our sleeves up and off we go again, really. We felt we had the game to cause them some defensive problems and we showed that.
"Again, it shows the character within this group, they always battle and the leaders drive that continuously. Again, in the second half, we've had period when we've got in the 22 but it's been brief and we haven't really been able to put our foot on their throat and keep it there. I thought we had the chance to do that."
Rees acknowledged that Clermont had been handed the early initiative due to Ospreys errors, and he says that it's important lessons are learned from the contest.
"The first try they scored came from a poor exit from us" said Rees.
"We were 7-0 down but we were positive, caught them on the short side, but that probably got us almost too excited to go with a bit of width to our game.
"They obviously got defensive message on and were going higher and faster and, for a period, we didn't deal with that. We tried to overdo it and, yes, we've come to play football here but the learning around the group is where and how to play football, where to be direct and where you can open up. We didn't get the balance right today."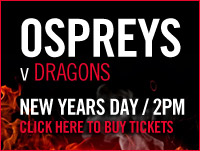 Having been forced into a late reshuffle following the injury withdrawal of influential centre, Josh Matavesi, Rees explained why the coaches had opted for Sam Davies to start in midfield in his place:
"We knew that we had Hanno who could give us the power option in midfield as he has done previously. He's done a decent job at 12 for us, around the Blues game where we looked at that style of play and even in Europe but this game was slightly different.
"We have come to play and, losing Josh as a playmaker, we felt that a little bit of football could challenge Bordeaux today. We wanted one of our most talented footballers on the field, with that extra kicking game and, for a large part, it did ask different questions defensively but, like I said it's about learning how and when we apply that."
With the Ospreys now at the top of Pool 2, until Sunday afternoon at least when Clermont welcome Exeter, they remain in a strong position with just two rounds to go, and Rees says it's going to be nip and tuck all the way:
"It's a strange feeling really. That's four points picked up in France, which is akin to a win in terms of points, but we realise we probably brought Bordeaux back into the group today. I don't know if that's a good or bad thing. It may be a good thing for us as Clermont and Exeter have both got to come to this cauldron. It's a great place to play.
"We've got to focus on our next challenge, Clermont at home, and then Exeter to round it off. It's going to go to the wire I think."