Tickets for the first three Guinness PRO14 games of the new season are on sale now, with new earlybird prices introduced that will reward supporters who buy early across the entire season.
Tickets for the first Welsh derby of the new season, against the Scarlets on Saturday 7th October, the opening weekend game versus Zebre on September 2nd, and Munster two weeks later are on sale now

"Buy early to get the best price" is the message with the introduction of new earlybird prices rewarding early purchasers with the best price
New "economy" option offers greater choice of ticket category at all Liberty Stadium home games

Introduction of Category A and B matches also help to ensure supporting the Ospreys is always a cost effective option




The new system will see typical savings of 25 per cent on matchday admission when supporters purchase their tickets no later than two weeks prior to the game in question.
In addition, we are also introducing a brand new, third, category of ticket to supplement the existing standard and premium seating. The new economy category will see a strictly limited number of lower cost tickets being made available for each home match at the Liberty Stadium on a first come, first served basis, until either the Earlybird deadline or they are all snapped up, whichever comes first.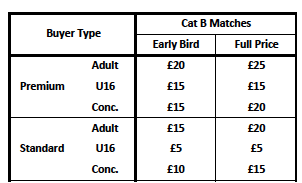 Currently on sale
Zebre (Cat B)
Saturday 2nd September, 2.30pm
Earlybird deadline- Friday 18th August
Munster (Cat B)
Saturday 16th September, 3.15pm
Earlybird deadline- Friday 1st September
Scarlets (Cat A)
Saturday 7th October,7.35pm
Earlybird deadline- Friday 22nd September
Huw Warren, Head of Commercial, Ospreys Rugby, said:
"We've taken the opportunity over the summer months to take a long hard look at how we operate on and around matchdays at the Liberty Stadium. Part of that was to identify a way to modernise our entire ticketing structure to ensure it is fit for purpose to match the new look Guinness PRO14, would reward the hard core supporters who regularly purchase match tickets, provide increased options, encourage more people to come and support the Ospreys, and yet wouldn't compromise the incredible value of a season membership.
"We believe we have achieved all of that. We've protected regulars from price rises, have introduced new and attractive pricing structures, and are ensuring that those who commit to the cause early will get the best deal, as we do with season memberships.
"The new season promises to be an exciting one and we want to see that reflected in the stands, continuing the growth in attendances we've seen in recent seasons which will give everybody at the Ospreys a huge boost."
You can purchase your tickets for the first three Guinness PRO14 games, against Zebre, Munster and the Scarlets, as well as the Canterbury Cup game against Bath at www.ospreysrugby.com/buytickets now.