The Ospreys have lent their support to the Royal British Legion's Poppy Appeal ahead of Remembrance Sunday next month.
Members of the squad will hit the streets ahead to assist volunteers with the sale of poppies over the coming weeks, while the Guinness PRO12 match at the Liberty Stadium against Connacht on Friday 31st October has been dedicated to the Appeal.
Collections will be made throughout the stadium for the appeal by the sea, army and air cadets, along with members of the scouts and staff from the Royal British Legion. In addition, members of the Royal British Legion will be able to access specially discounted tickets, with a special cashback deal seeing the Appeal benefiting from each purchase.
Funds raised will help support veterans of all ages, from the Royal Navy, Army and Royal Air Force along with injured serving personnel, on the 100th anniversary of the outbreak of the First World War.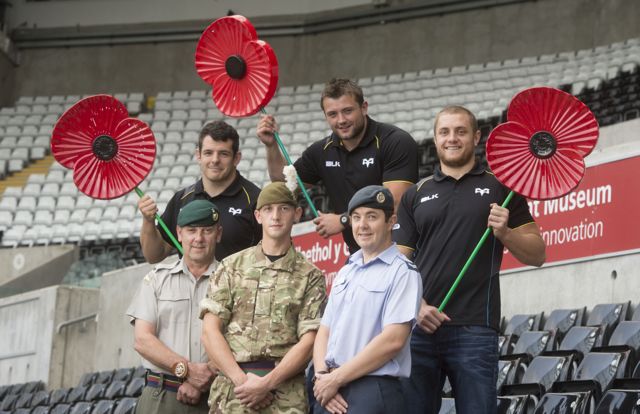 Phill Flower, community fundraiser for the Royal British Legion in South West Wales, said:
"This is an outstanding opportunity for the general public to support the Poppy Appeal as well as supporting the Ospreys in their very successful season so far.
"I would like to thank the Ospreys for their support in this match as well as the players for offering their own time to sell poppies at various superstores throughout Swansea. Please come along and support our Armed Forces."
The appeal is the Legion's biggest fundraising campaign and runs throughout the year. Shoppers are able to snap up lapel poppies at shops, supermarkets, pubs and clubs, from the last week of October until Remembrance Sunday. 
Throughout the UK it takes 350,000 volunteers and staff to organise the Poppy Appeal each year and money raised goes to support our welfare work for the Armed Forces community.
More than 40 million Remembrance poppies, 500,000 poppies of other types, five million Remembrance petals, 100,000 wreaths and sprays, 750,000 Remembrance Crosses and other Remembrance items are made each year.
And the 2013 Poppy Appeal raised an amazing £39 million across Britain — with a record breaking £70,000 through street collections.
The target for the 2014 Appeal, which runs from October 2014 until September 2015, is £40 million.