Ospreys Rugby are delighted to announce a new deal that sees leading Welsh business Pro Athlete Supplementation (PAS) become Official Performance Nutrition Partner.
Ospreys and PAS sign a two-year agreement that will see the Welsh company become official supplier of sports nutrition products to the Region

 

PAS founder, Jon Williams, has provided nutritional advice to the Ospreys for the last decade

With the Ospreys on board, PAS now supply the Welsh Rugby Union and all four Regions

 

 
Under the new agreement, which kicks in this summer ahead of the 2017/18 season and will run for two years, PAS will be the Region's official supplier of sports nutrition products, servicing all teams from the senior side through to the age-grade set-up.
Formed in 2006 by Jon Williams, Wales National Squad Nutritionist, and Olympic Gold Medalist, Darren Campbell MBE, PAS has recently completed a similar agreement with the Welsh Rugby Union and, following this announcement, now supplies all four Welsh Regions. 
In addition, PAS supply a host of other sporting organisations and clubs, including the Football Association of Wales, Premiership football clubs Crystal Palace and Leicester City, Bristol Rugby and Surrey County Cricket Club.
Williams has worked closely with the Ospreys for a decade, providing nutritional advice to the players and supporting the work of the strength and conditioning team, but this agreement will see that relationship taken to another level as PAS will supply a full range of nutrition products to the region.
"I'm delighted that PAS will now be able to build on the relationship we currently have and it's great to be the Ospreys Official Performance Nutrition Partner" said Williams.
"This partnership means that we now supply professional rugby across Wales in its entirety, putting us in a strong position to ensure that we provide the best possible service at all levels.
"We are excited about this partnership and look forward to helping the Ospreys, and Welsh rugby, to continued success."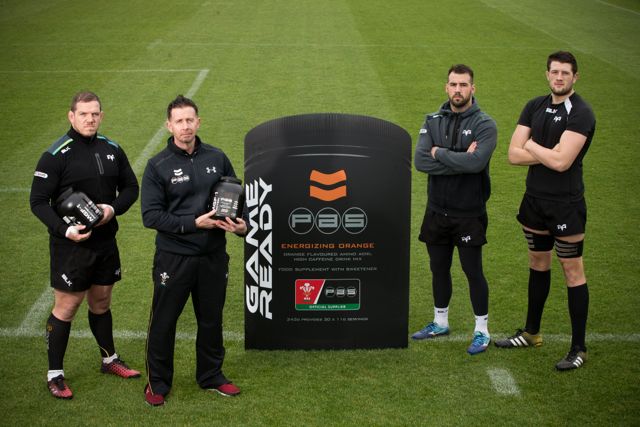 Jon Williams (PAS) with Paul James, Scott Baldwin and Rory Thornton at Llandarcy Academy of Sport 
Huw Warren, Commercial Manager, Ospreys Rugby, added:
"Nobody is better placed to understand and provide the full nutritional needs of the Ospreys than Jon and the team at PAS, having worked so closely with the players at international and regional level for a number of years.
"The players know and trust the PAS brand, something which is absolutely crucial when appointing an official supplier of nutrition products and, as such, this is a partnership which the squad buy into.
"Working with an ambitious, Welsh company that is really making huge strides in their field fits with our ethos at the Ospreys, where we have strong local roots but a global outlook. We believe that this partnership is one for the long term, not an overnight thing."
Johnny Claxton, Head of Strength and Conditioning at the Ospreys, said: 
"PAS has a proven track record of providing high-performance nutritional support to elite athletes.  In this sense, it was an easy decision for the Ospreys to work closer than ever with them through this partnership, which we know will greatly enhance the delivery of our S&C programme."
PAS products will hit the shelves at Co-Op and Tesco stores during 2017 as the company continues to cement its position as a leading player in sports nutrition in the UK.