The Ospreys have said a big thank you to everybody at Bridgend Ravens and Bridgend Council for their support after the success of the recent game against Sale at the Bridgend Ford Brewery Field.
It was arguably the most enjoyable of the region's outings in Bridgend, on and off the field, since the first Ospreys game there in 2010. The horrendous wet weather that has drenched the country in recent weeks failed to dampen spirits as the supporters present enjoyed an enthralling contest that the Ospreys edged by a solitary point with the final kick of the game after sharing nine tries.
To mark the success of the collaboration between the three organisations, Wayne Hall, Sales Manager at the Ospreys and a former Ravens and Wales hooker, visited the Bridgend Ford Brewery Field to present Cllr Mel Nott, Leader, Bridgend County Borough Council, and representatives from the rugby club, with commemorative signed and framed Ospreys jerseys.
Before handing over the shirts, Hall said:
"We always receive a warm welcome at the Bridgend Ford Brewery Field, but it is fair to say after our most recent visit in January, the partnership between the Ospreys, the council, and the Ravens, is stronger than ever.
"We used the game to launch a new initiative in the county to promote the benefits of an active and healthy lifestyle to youngsters in the area, and we are committed to helping the council with their aims over the longer term. We aren't just visiting Bridgend once a year and disappearing until the next time.
"The off-the-field team at Bridgend also helped to deliver a wonderful evening and we are grateful to them for again hosting us in the LV= Cup. It was a fantastic match, with plenty of attractive running rugby which defied the awful weather, and with the perfect finale. That is down to one person, groundsman Lewis James of LJ Property Services. He put in an incredible effort to provide a great surface and we are indebted to his efforts.
"We look forward to returning to the Bridgend Ford Brewery Field soon."
Cllr Nott commented:
"Bridgend County Borough Council is delighted to work in association with both Bridgend Ravens and the Ospreys to deliver another first rate event that promotes Bridgend, and our thriving rugby community, to a wider audience. Everyone involved in the recent fixture at the Brewery Field should be very proud of what they achieved, which once again provided evidence that the county borough is a great place to live and work."
Norman Spain, Stadium Manager at the Bridgend Ford Brewery Field added:
"To be invited to host these games at the Bridgend Ford Brewery Field and to welcome the Ospreys and their directors, supporters and partners to use our facilities is always an honour.
"Although the weather was against us on the night, a sterling effort by Lewis in particular ensured that we were able to enjoy a great game topped off with the right ending.  It was a huge success from every perspective and we look forward to welcoming the Ospreys back soon."
Jen Fryer from Brewery Field Limited, said:
"It was a huge success on and off the field and the Ospreys are welcome back in Bridgend any time."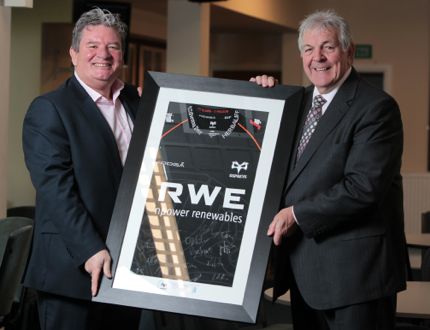 Wayne Hall from the Ospreys presents a signed jersey to Cllr Mel Nott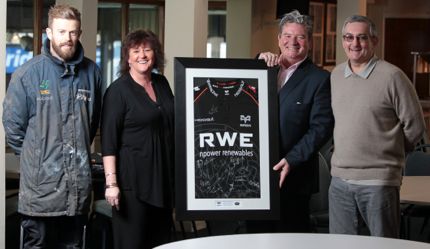 Wayne Hall hands over an Ospreys jersey to the team at Bridgend Ravens