The summer Ospreylia-wide community service initiative hit the streets of Maesteg today when players joined refuse collectors in Bridgend County Borough on their morning run.
Ospreys players teamed up with the crew from Bridgend County Borough Council's waste partners, Kier, bright and early on Tuesday morning to lend a hand. 
The 'Recycling Runs', which are also taking place in Neath Port Talbot and Swansea throughout the course of the next two weeks, are marking the beginning of the Ospreys 2014/15 season and their commitment to community service.
Early risers in Maesteg would have been surprised to see Joe Bearman, Jonathan Spratt, Marc Thomas, Evan Yardley, Tom Habberfield and Richard Fussell picking up their domestic rubbish and recycling.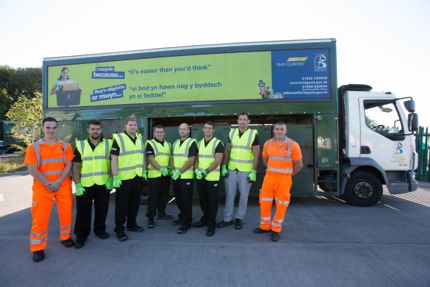 The Ospreys were also helping to promote the council's recent drive to encourage Bridgend County Borough residents to put their recycling in the correct containers. Mixing up recycling can cause delays at the kerbside for the crews and create problems at recycling plants. 
The Ospreys, the council and Kier are therefore urging local people to recycle using the following methods:
One black box for newspapers, magazines, mail, catalogues and white envelopes.

A second black box for cardboard, glass, thick brown packaging paper and coloured scrapbook paper.

A blue bag for foil, plastic bottles, plastic cartons, tubs, cans, tins and punnets.

Food waste should be placed inside the brown food caddy.
Joe Bearman, who took part in this morning's activity said: 
"It was an early start for us to launch our Recycling Runs in Ospreylia but it's been a great experience to work with the refuse team and do our bit to raise awareness about recycling. It's a tough job and I hope that we've been more of a help than a hindrance to them.
"We rely on the support of the local community throughout the season so it was our pleasure to give something back today. We hope that we can do our fans proud this season and we want to thank them for their loyalty."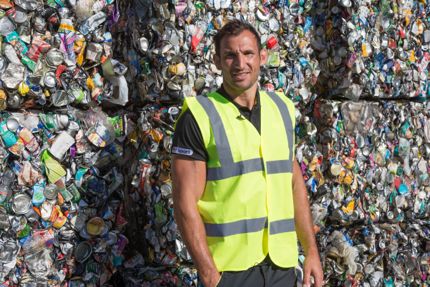 Councillor Phil White, Bridgend County Borough Council Cabinet Member for Communities, said: 
"It's great to see the Ospreys players taking time out to lend a hand in the local community and helping us to spread the recycling message as widely as possible. We really appreciate the tremendous efforts of all our recycling residents who are doing their bit for the environment by reducing the amount of waste we send to landfill and helping us to recycle as many materials as possible so that they can be put to good use.
"If for some reason you don't have any recycling containers at your home but you would like to get started, please call the council on 01656 643643 or email talktous@bridgend.gov.uk and containers will be sent out to you."

Adam Jones, Business Manager at Kier Services, said:
"The Ospreys boys did a great job on the Recycling Run. They weren't afraid to work hard and hopefully the workout helped them a little bit with their pre-season preparations!" 

To see our full gallery of photos from the Recycling Run, please click here to visit our Facebook page