Alun Wyn Jones has praised the character and "emotional intelligence" shown by the Ospreys in the win over Exeter but says they'll need plenty more of it when they face Clermont Auvergne on Sunday.
Response to going in at half-time against Exeter trailing by four points pleased skipper, with second half performance ensuring an Ospreys win in ERCC Rd1 game at Liberty

"Emotional intelligence" was key to improvement says Jones

With a trip to France on Sunday to face Clermont Auvergne up next Ospreys "aren't getting ahead of ourselves" 

Bordeaux-Begles then visit the Liberty for Rd 3 on Saturday 12th December (5.15pm KO)
The 25-13 victory was the ideal start to the new European Rugby Champions Cup campaign, but Jones was quick to ensure that nobody in the camp got carried away with themselves after the win.
"It's a good start, which is what you want in this competition, but that's all it is at the moment, a start" underlined Jones.
"It could have gone either way. All credit to the Chiefs and their supporters, they came and made a real game of it on and off the pitch, ensuring a decent atmosphere for Sunday afternoon at 5.30.
"Home wins are important, particularly in a competition like this one where you only have six games to play. There's no margin for error so you have to win the home games first and foremost and see what you can pick up on the road.
"Winning game one sets you up for the rounds 2 and 3, gives you something to play for."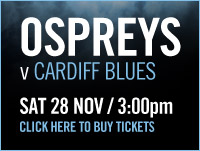 Reflecting on a tight contest between two evenly matches teams, Jones underlined the composure and maturity displayed by the squad to bounce back from a half-time deficit against quality opposition.
"We had a good first 20 minutes then they were in the ascendancy and scored just before half-time to go in front so it could have gone either way" he continued.
"We had a good half-time, the boys were level headed about things and we were able to take control. Some of our returns with ball in hand from the back three enabled us to keep the ball and start playing, which put us in a good place.
"You look at the growth of Exeter since they came into the Premiership, their brand of rugby stands out in that league. They've got the forward platform that you expect from an English team, the set piece, but they've got the ying and the yang of the game so to speak, as they earn the right to go wide and look to do it and every opportunity and are very dangerous. Their record this season, their tries scored and position in the league speaks for itself.
"We got caught with that width a few times in the first half but once we got on top in the second half we were able to keep the pressure on and that attitude and effort was particularly pleasing for me. It was a team effort from one to 23.
"You talk about character, you can link it to emotional intelligence. It may have only been a point difference at half time but in such a tight game that can sometimes seem huge when you are on the wrong end of it. We were composed, listened to the messages from the coaches, and believed in what we doing, stuck to the plan and after a couple of penalties went our way were able to get our noses in front and stay there."
Next up for the Ospreys is one of the most daunting challenges in rugby, a trip to the Massif Central to face last season's European Cup and French T14 runners up, Clermont Auvergne.
As Jones acknowledged, that is a prospect to prevent anyone getting carried away:
"We aren't getting ahead of ourselves at all, we know what's in store for us at the weekend. We've got a few guys in the squad who have been out there so we aren't going into the unknown, we're aware of how intense the atmosphere will be and the quality of the rugby they play.
"That's what European rugby is all about, these experiences. We've done the first essential and won our home game, if we can sneak something when you're away then you're in a good place, and that's what we'll try to do.
"It'll be tough, but we have to relish these challenges. We'll need to show that character and emotional intelligence again in abundance but we are looking forward to it."