Ospreys Rugby are delighted to announce the appointment of Leyton Williams as Head of Commercial.
Williams joins the Region from Worcester Warriors, having led commercial operations at the Gallagher Premiership club for the last three years, attracting record-breaking sponsorship income in each season.
For Williams, originally from Llanelli, it's a welcome return home to Wales having worked for the Scottish Rugby Union as Commercial Manager at Edinburgh Rugby prior to his stint at Sixways.
A familiar face to many in Welsh rugby having previously held commercial roles at the WRU and the Scarlets during an almost 20-year career in the sports industry, he will commence duties at the Ospreys later this month.
"I'm delighted to be joining the Ospreys at such an exciting time for the Region" said Williams.
"I've worked within the industry for nearly 20 years, inside and outside of Wales, in different environments, and I want to use my experience and connections to drive the Ospreys forward commercially from an already strong base.
"Spending time with staff briefly to get a taste of life at the Liberty Stadium has been really enjoyable. The positive atmosphere around the place and the genuine excitement about what the organisation wants to achieve next season, on and off the field, has impressed me.
"I'm looking forward to getting started and linking up with everybody at the Ospreys, directors, commercial and rugby staff, and our partners and supporters, to make the Region accessible and affordable to the wider community.
"One of my first tasks will be to engage with as many supporters and partners with a vested interest in the Ospreys as I can to get important feedback, before looking at the wider picture on how we can attract businesses that would like to use the Ospreys brand to promote themselves, while growing our support base and match day crowds. It is a challenging role but I'm excited about the opportunity."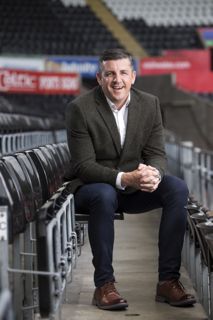 Andrew Millward, Managing Director, Ospreys Rugby, welcomed Williams to the business, saying:
"We are delighted to have secured Leyton to take the commercial reins here at the Ospreys for what is an important period for the organisation. He brings a wealth of experience and contacts to the business having worked successfully in professional rugby across three countries and will provide the know-how to build on the commercial strength of the Ospreys brand.
"As a business, the board and senior management are working tirelessly to provide the platform for Allen Clarke and his team to succeed on the field, and Leyton will help drive the strategy to allow us to do that."
Williams replaces former Head of Commercial, Huw Warren, who has taken up an opportunity with Glamorgan Cricket after two years with the Ospreys. Millward said:
"Huw leaves to take up a new challenge with our best wishes. In his short time with us he helped to grow an already strong commercial brand, bringing in a number of key commercial long-term partners, and we wish him every success at Glamorgan."