As a part of the Ospreys Schools Programme Ben John and Tom Isaacs joined Glyncorrwg and Cymer Afan Primary Schools at the Sony UK Technology Centre in Pencoed.
The Ospreys Schools Programme is an initiative designed to aid the improvement of both educational and personal skills of year 5 and 6 pupils from across Ospreylia. 
Run in conjunction with RWE npower renewables, Sony UK Technology Centre, the WRU, Save Britain Money and Network Rail, more than 3000 primary school children took part in the scheme during the last academic year. 
As well as a 6-week lesson programme led by the WRU/Ospreys Participation Officers, the schools also take part in rugby festivals, receive a visit from Ospreys players for a special Q&A session and go on an interactive tour of the Liberty Stadium. 
Pupils from Glyncorrwg and Cymer Afan Primary Schools were the first pupils this year to experience the final part of the programme which is a fun and educational tour of the Sony UK Technology Centre at Pencoed.
Ospreys pair, Ben John and Tom Isaacs, joined the Port Talbot schools on the visit led by the fantastic staff at Sony Pencoed as they learnt about different types of technology and manufacturing, as well as the different aspects and people it takes to run a large successful company.
As soon as the pupils arrived they enjoyed seeing some of the impressive Sony technology in action, especially having their arrival screened on the big television as they were filmed by cameraman for the day Ben John.
The Port  Talbot pupils then took part in an interactive lesson on Sony products, history and technology before getting to tour the different parts of the plant, see the cameras being made on the factory floor and even encountering a robotic vacuum cleaner patrolling the corridor!
The players also got to take a break from the wet Welsh weather as they were beamed to a sunny beach thanks to green screen technology for a question and answer session with the children. The pupils were even luckier when it was their turn to use the technology, as they were beamed to Gringotts Bank from the Harry Potter series and got to play with an invisibility cloak!
Ben John said:
"It was great to take part in the visit today. It was really interesting to learn all about the products that Sony have made and the technology that goes into the cameras that they produce here, as well as how the factory impacts on everybody's daily life. The pupils and us have all had a really fun and informative day especially getting to use the green screen technology and the video cameras. 
"It was also fantastic to meet the pupils from Glyncorrwg and Cymer Afan, they came up with some really good things to ask in the Question and Answer session and it was great getting to know them as we went around the factory".
Jessica Jones, Assistant Training Officer at Sony Pencoed added:
"We are delighted to be part of the Osprey Schools Programme, it is really important to start linking industry with the next generation and we are pleased that we can play our role in hopefully inspiring the next generation of scientists, technologists and engineers."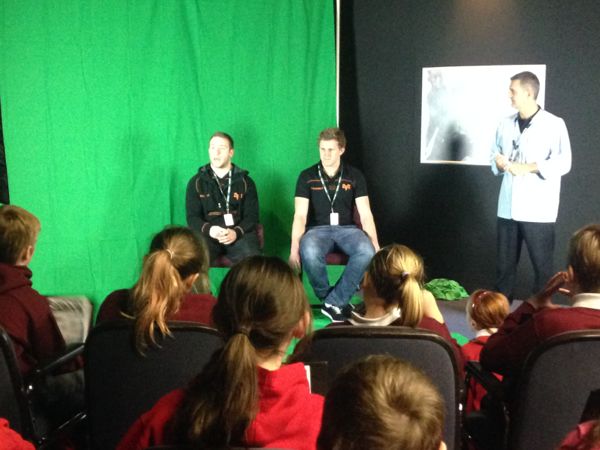 Pupils put their questions to Tom and Ben in front of the green screen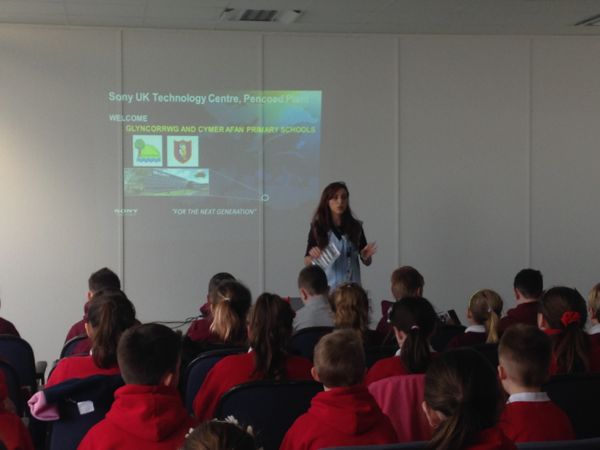 Pupils find out about Sony