The Ospreys were pounding the pavements of the region this morning as they kicked off this year's rubbish and recycling runs on the streets of Bridgend and Swansea
The first leg saw a team join Swansea Council's waste team in Townhill, while this morning as they picked up the city's rubbish and recycling as part of the team's ongoing commitment to serving the Ospreylian community.
In addition, a second squad linked up with Bridgend County Borough Council and their waste partners Kier to pick up rubbish and recycling across the Brackla area of the county.
An additional rubbish run in Neath Port Talbot will follow next week. 
Sam Davies, Ben John, Scott Otten and Marc Thomas pulled on their boots and overalls to assist the team across Swansea with their early morning collection – a great work-out, it was agreed, prior to Friday's game against Edinburgh.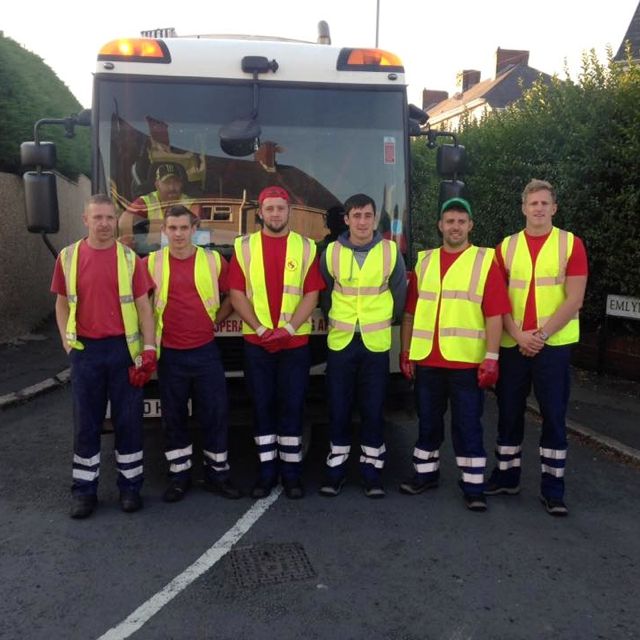 After taking part in this morning's activity, Sam said: "I know the rubbish runs have become an annual tradition at Ospreys Rugby so it's great to be able to join in and get my hands dirty with the rest of the team.  The council's waste teams do such a great job in all weather conditions right throughout the year, without getting the credit they deserve so it's great to be able to give something back by getting involved and giving them a helping hand today - not that they needed it!
"The local community are incredibly important to us as players and so community activities such as this really do allow us to give something back to our supporters across Ospreylia."
Cllr David Hopkins, Swansea Council's Cabinet Member for Environment and Transportation, said:
"The Ospreys are terrific ambassadors not just for Swansea, but for the entire region they represent as a whole. Right through from their Wales representatives making such a big impression at the Rugby World Cup to their players currently competing in the Guinness PRO12, they do a brilliant job in raising our profile as a city of sporting excellence.
"These players are incredibly fit athletes, but I'm sure taking part in a morning waste collection will have given them a newfound appreciation for the outstanding work our staff does. It's a tough, demanding job that sometimes goes unseen in very difficult weather conditions. The dedication and commitment of our waste collection teams benefits many thousands of residents every day."
In Swansea, kerbside collections currently pick up a wide-range of recyclable materials including paper, card, cans, glass, foil, plastic, food waste and garden waste.
Meanwhile, in Bridgend, Lloyd Ashley, Lloyd Evans, Tom Habberfield, Dan Suter, Richard Fussell and Joe Bearman were picking up domestic rubbish and recycling as well as  helping to promote the council's drive to encourage Bridgend County Borough residents to take another look at how much rubbish can be recycled from every room at home.
In most homes, the majority of recyclable materials are generated in the kitchen, whether it be food waste, cardboard and plastic food packaging, or glass bottles and sauce jars.
But a lot of rubbish accumulated from every other room can be recycled in the weekly kerbside collections too.
For example, shampoo and shower gel containers, empty perfume bottles and toilet roll tubes are all items found in the bathroom which are ideal for recycling, while magazines and catalogues, junk mail and even old clothes are all recyclable items you'd find elsewhere.
Joe Bearman also took part in the Bridgend recycling run last year and he said:
"I was here last year to take part in the recycling runs and I'm glad that Kier were happy to have us back to help out again this year.  Doing our bit for both the community and for the environment is important to us as a team and we are pleased that we could raise awareness about the importance of recycling."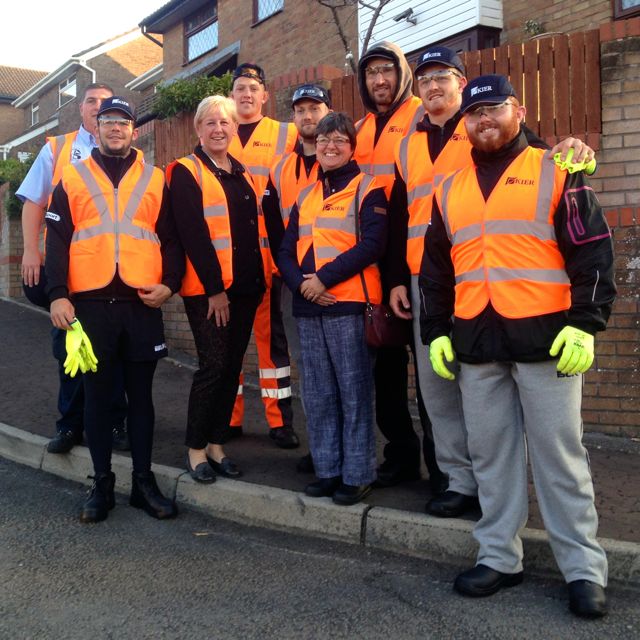 Councillor Hywel Williams, Bridgend County Borough Council's Cabinet Member for Communities, said: "When you look around the house it's surprising just how much can be recycled, and we really appreciated the Ospreys players taking time out to help us spread the recycling message in our local communities.
"I'm sure residents enjoyed seeing the players lending a hand and we wish them well for the rest of the season.
"If for some reason you don't have any recycling containers at your home but you would like to get started, please call the council on 01656 643643 or email talktous@bridgend.gov.uk and containers will be sent out to you."
Season Memberships for the 2015/16 season are now on sale and can be purchased directly from the Ospreys website – www.ospreysrugby.com
To see our galleries from today's rubbish and recycling runs please visit our Facebook page now at www.facebook.com/ospreysrugby