Ospreys Rugby are delighted to announce details of a new three-year commercial deal with Clarity Copiers that will see the Bridgend based company's logo feature on the region's home shirt.
Bridgend based Clarity Copiers sign up to be on front of new home shirt

Clarity already sponsor Premiership Select team in the British & Irish Cup

Now in their 21

st

 year in Wales, with four offices across the M4 corridor; a Head Office in Bridgend, supported by field offices in Abercynon, Newport and Swansea
A long-term premium partner of the Ospreys and a passionate supporter of grassroots sport, Clarity are already headline kit sponsors of the Ospreys Premiership Select side that features in the British & Irish Cup, as well as an official supplier to the region, providing a solution to their printing and copying requirements at the Liberty Stadium and Llandarcy.
Thanks to this new agreement, the iconic black Ospreys jersey will now include Clarity's logo on the right side of the chest.
Rhian Evans of Clarity Copiers said:
"I'm absolutely thrilled that Clarity Copiers will feature on the new Ospreys shirt. We are a local business, based in the Ospreys region, absolutely committed to supporting our local community and local sports teams, from the grass roots up.
"When we first came on board with the Ospreys it was impossible to imagine that within a few years the relationship would have grown to where it is today. However, working closely with them it was crystal clear that we share a similar outlook on how to do business and the importance of developing and supporting close community links, and that is why our partnership continues to go from strength to strength.
"We look forward to sharing some exciting moments with the Ospreys this season and beyond, on and off the field."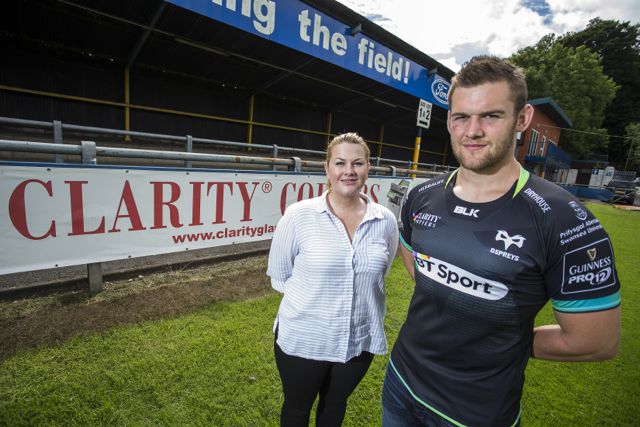 The commercial relationship between the Ospreys and Clarity Copiers has grown rapidly since Clarity first enquired about taking a ground advertising board at the Brewery Field after which they took out individual player sponsorships with the Ospreys and big screen match day advertising at the Liberty Stadium, before featuring on the kit last season when they became the first business to have their name on the team socks.
Newly appointed Commercial Manager at the Ospreys, Huw Warren, commented:
"It's fantastic to be able to step into my new role and see a partnership like the one between the Ospreys and Clarity Copiers thriving as it is, a prime example of how a progressive and forward thinking Welsh company can work hand in hand with us to grow from entry level to premium partner.
"Time and again they have already demonstrated their commitment to the region, not only becoming sponsor of the Premiership Select side but as senior team kit sponsor, as well as a supplier to our business. It's a mutually beneficial relationship, driven by Rhian and, at the Ospreys end, Wayne Hall, and we hope that it continues to go from strength to strength."
Clarity Copiers Glamorgan is a part of the Clarity Group, providing first class excellent copier/printer/scanning solutions for businesses across South and West Wales.
Now in their 21st year in Wales, Clarity are the largest independent retailer of SHARP copiers in the country. They have four offices across the M4 corridor; a Head Office in Bridgend, supported by field offices in Abercynon, Newport and Swansea.