The Ospreys have signed up another leading Welsh business, Morganstone, to feature on their jersey for the next two seasons.
The Llanelli based construction company is new to the expanding family of commercial partners at the region for 2015/16, and the away shirts will carry their logo on the back for the coming season, and next, having agreed a two-year deal.
Ian Morgan, Managing Director of Morganstone, said:
"We are delighted to be able to support the Ospreys this year. Community is at the heart of much of what we do and supporting a local rugby region in this way fits very nicely into our ethos as a business, especially given the Ospreys' own commitment to grassroots rugby.
"We were also impressed in the very proactive way in which the region works with its commercial partners and we look forward to a very successful relationship going forward."
Morganstone is fast becoming one of Wales' foremost multi-disciplined construction companies. From its headquarters in Carmarthenshire, it is delivering a growing number of high quality developments for public sector organisations, private developments and main contracting in residential, commercial, health and educational sectors.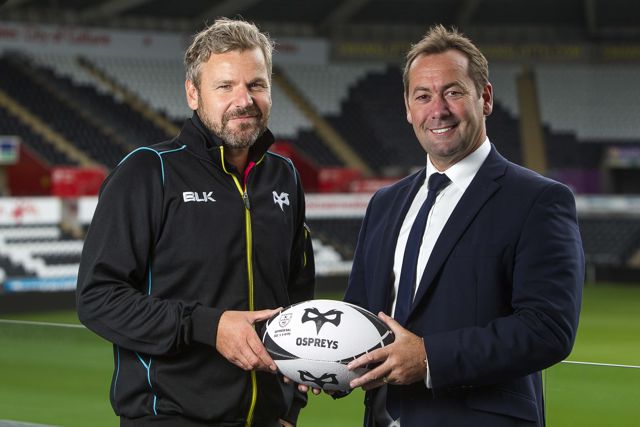 The company was formed with the vision of offering the disciplines of a National PLC alongside a flexible and hands-on approach – qualities associated with smaller regional firms.
Yarnie Guthrie, Commercial Manager, Ospreys Rugby, added:
"I'm delighted to be able to introduce Morganstone as the newest commercial partner of Ospreys Rugby. Active right across Wales, they understand the reach and appeal of the Ospreys brand and are a welcome addition to our growing network of partners.
"Morganstone share many of our core values which makes us a great fit as commercial partners. Having been introduced to us by existing partners of the region, this is a great example of how working proactively with commercial partners and not just treating them as sponsors, can allow us to grow our business, making us better placed to achieve our long term goals of sustainable success, on and off the field."