Ospreys Rugby are delighted to announce that Jeff Hassler has signed a one-year extension to his current deal, committing himself to the region until summer 2018.
Canadian winger's existing contract had one more season to run, but new deal ties him to the Ospreys until 2018 at least

Currently just four games of his 50 appearances for the region and has scored 16 tries for the Ospreys

Set for a return to action in pre-season fixtures following shoulder surgery last month

 
The 24-year old Canadian arrived at the Ospreys in the summer of 2013, quickly establishing himself as a fan's favourite with the all-action style you'd expect from a former college gridiron player.
Having made his Ospreys debut off the bench in Round 2 of the 13/14 PRO12 season, a 29-all draw in Leinster, he marked his first start a week later with his first try in a 44-10 win over Edinburgh at the Liberty Stadium. 
To date, he has 46 Ospreys appearances to his name, and he has scored 16 tries for the region. His existing contract was due to run until the end of next season.
"It's good news" said Hassler after signing his new contract.
"I'm really happy, I've enjoyed being here, so for management to come to me early with a desire to extend for another season is brilliant for me personally. 
"The first year and a half I was here went like a dream, I was playing regularly and scoring tries, but it's been a bit frustrating since then, stop start, with the World Cup and some niggles stopping me getting any real momentum. 
"I'm working hard on my fitness now after shoulder surgery last month, and I'm really excited about getting a good block of pre-season work in so that I can be up and running with ball in hand by the time the first game comes around. I'm sitting out Canada duty this summer as everybody understands how important is that for me to hopefully get back to the form I was in a little while ago.
"I was very young coming to the Ospreys and I've really matured as a player and a person since I came here. The flip side of being injured is that it's allowed me to grow off the field, taking on more leadership work, but the reality is I need to start playing more regularly to really start earning my money.
"We've got a young and exciting squad, there are a load of players coming back to fitness and without a World Cup at the start of the season, we believe that we can have an impact right from day one."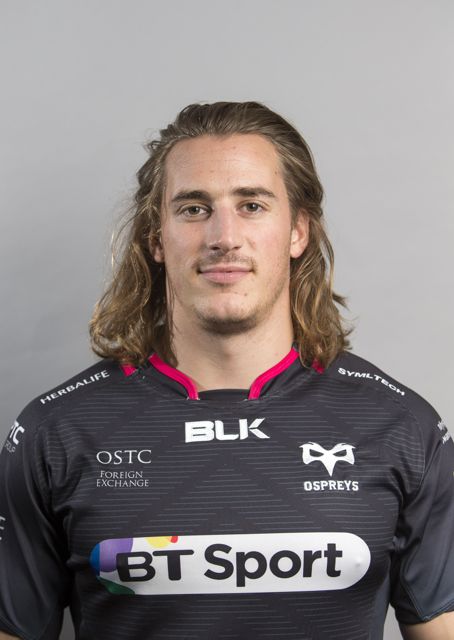 Previously a regular on the IRB Sevens Series with the Canadian side, he made his full international debut on the same day as his Ospreys team-mate Tyler Ardron, in a 28-25 win over USA in June 2012. To date he has 17 caps, including three appearances at last year's Rugby World Cup, scoring four tries.
"Jeff has the potential to be not only one of the best wingers in our league, but one of the best in Europe" said Head Coach, Steve Tandy
"He's been really unfortunate with injury over the last year but we've seen during his time with us that he is a physical specimen who knows where the line is, a potent combination for a winger, who gives us real go forward.
"He arrived here as a raw, unknown, youngster but he has matured into someone who is an important member of our squad, really thriving in our development system. 
"We opted for him to have surgery at the end of the season to resolve a longstanding shoulder injury that was preventing him from preparing fully in the gym, and he's now looking forward to his first full pre-season with us. That should really help him to make the right kind of impact in the new season, where we are expecting him to make a significant contribution."