Hugh Gustafson, will combine playing for the Ospreys with a new role at Swansea RFC this season having been appointed Forwards Coach at the All Whites.
Gustafson will combine his coaching duties at Swansea with his playing career at the Ospreys

Previously coached age-grade rugby at the Dragons and has been coaching Tumble for the last three years, winning promotion in 2016 to Division 2 West

Gustafson: "

Working as a coach has developed me as a player and I've learnt more from last year, my first with the Ospreys, than you could have imagined"

 
The experienced 30-year old hooker will take the next step on a coaching development pathway that has seen him coaching regional age-grade rugby at the Dragons and within the community game at Tumble over the last three seasons, helping them to promotion into Division 2 West last year. At the same time, he will continue with the Ospreys having signed for the region last year and made seven appearances during 2016/17. 
"Swansea is a club with a fantastic history that have had some great players and coaches down the years" Gustafson said after joining up with the club for pre-season training.
"The opportunity to become a part of the coaching set up is an exciting challenge. With 12 years experience as a professional rugby player, I hope to be able guide and provide worthwhile advice and support to the younger players coming through the Whites set up"
Richard Lancaster, Director of Rugby at Swansea, said:
"Gus has made an immediate impact on our environment and is driving really high standards which the squad are responding to. The experience Gus brings to the group and the fact that his day job is still working in a professional environment will be invaluable to us I'm sure over the coming season.
"Hugh has brought in some fresh and creative ideas already and understands what we are trying to do at Swansea and is excited by it. He is a great fit and most importantly a great man. We are all looking forward to working alongside him over the coming months."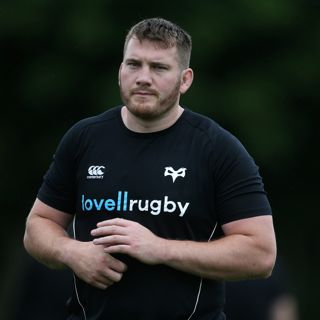 According to Gustafson, a year on from his switch to the Ospreys, this opportunity with one of the region's four Principality Premiership clubs has come at the perfect time.
"I feel that it's the right move for me right now given where I'm at in my career" said Gustafson.
"I've done Dragons age-grade, I've done three years with Tumble which has been a fantastic experience for me, and this is the next step, not only as a coach but still as a player.
"Personally, I'm always looking to learn from whatever I'm doing. Working as a coach has developed me as a player and I've learnt more from last year, my first with the Ospreys, than you could have imagined. 
"Coaching and playing are two very different things. It's like being a commentator, it's very easy to spot things from the sidelines and suggest how it should be done, very different to being in the heat of the battle and having to make decisions under pressure. I think that doing the two roles at the same time does improve your understanding though and it certainly gives you an insight that you may not have otherwise."
Despite his extra commitments at St Helens, Gustafson knows that he still has a very important day job to concern himself with.
"My main focus has to be the Ospreys, competing for a place and continuing to work hard to represent the region to the best of my ability whenever I can" the former Wales age-grade captain continued.
"That said, I've coached for a long time, I enjoy coaching and I enjoy helping other players whatever the environment so with one eye on my future it is a natural progression that makes absolute sense.
"Rather than just jumping into it I've worked my way from 16s, 18s, Tumble and now this and I think I've developed with each step. I'll continue learning in this role, working in an environment at the Ospreys which is doing a great job in bringing through young coaches."