After helping steer the Ospreys to a winning start in the European Rugby Champions Cup on Sunday evening, man of the match Dan Biggar hailed the victory as "one of the best".
Biggar wins Man of the Match award after kicking 20 points in Ospreys victory over Exeter Chiefs

Overcame missing 3 penalties in the middle third of the match

"We showed a lot of courage, a lot of fight, and a lot of determination to pull us through in the end" - Biggar

Ospreys now go to France next weekend to face Clermont Auvergne before the double header with Bordeaux-Begles in December

Ospreys had failed to win in any of their last nine European Cup games against English opposition, going back to a 27-16 win over London Irish at the Liberty in October 2010
The outside half kicked 20 points and provided a calm head at the centre of the action as the Ospreys came from behind to deny Exeter even a losing bonus point in the Pool 2 opener. 
As he picked up his Heineken man of the match award Biggar explained how much the win meant to the team, both after a disappointing start to the season and the region's lack of progress in Europe in recent seasons.
"We haven't had quite the results we wanted in the league but what it showed today was how much this competition means to us" said Biggar.
"We've been hurting these last few years that we haven't put in a particularly great effort in the pool stages. Today we showed a lot of courage, a lot of fight, and a lot of determination to pull us through in the end."
At times it was breathless stuff as the two teams defied difficult conditions to produce a contest that kept the crowd on the edge of their seats throughout but Biggar believes that, ultimately, the Ospreys got their just reward, saying:
"It seemed absolutely frantic to me, I don't know what it looked like to anyone else.
"I think we have to take a huge amount of credit as a team. We stuck to our structure, we didn't let it get away even though our outside half missed a couple of kicks. It's just great to come away with a win against such a strong out-fit in Exeter, to come away with a 4-0 win.
"What a great occasion. The crowd was awesome and it was a great win, one of the best for me in an Ospreys shirt.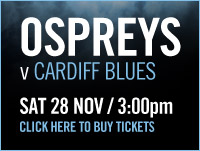 The outside half he was referring to was, of course, himself, as he kept going to prove such a positive influence despite missing three routine kicks either side of half-time.
"I think a couple of years ago, it may been a little bit different maybe, I may have let that effect me a little bit" admitted Biggar.
"I was a little bit down at half-time after missing that one just on half-time, but you can't do anything about it once it's gone. Even though I missed two or three kicks, in the end it was just pleasing that I managed to nail the ones that really mattered. I've got a little bit of work to do in training."