Tickets for forthcoming home games, against Glasgow in the Guinness PRO14 and December's big European clash with Northampton Saints, are available to purchase now.
The earlybird deadline has passed for Glasgow on Sunday 26th November (1pm KO) which means that adult tickets for this match start at £20.
Northampton then visit on Sunday 17th December, and this is the only home game that month. The earlybird deadline for this game is Friday 1st December and by buying early you get the best price, with adult tickets starting at just £15.
The new earlybird system rewards supporters who buy early with typical savings of 25 per cent on matchday admission when supporters purchase their tickets no later than two weeks prior to the game in question.
In addition, we have also introduced a brand new, third, category of ticket to supplement the existing standard and premium seating.
The new economy category will see a strictly limited number of lower cost tickets being made available for each home match at the Liberty Stadium on a first come, first served basis, until either the Earlybird deadline or they are all snapped up, whichever comes first.
Full details of matches currently on sale at the Liberty Stadium Ticket Office:
HOME 
Glasgow (Cat B)
Sunday 26th November, 1pm
Earlybird deadline – Passed
Northampton Saints (Cat A)
Sunday 17th December, 3.15pm
Earlybird deadline – Friday 1st December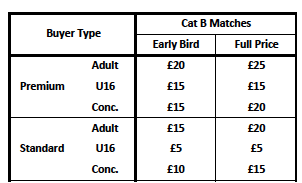 AWAY
Scarlets
Tuesday 26th December, 5.30pm
Seating – Adults £25 17-21 years old/student £9 6-16 years old £5 Over 60 £20
Standing – Adults £18 17-12 years old/student £7 6-16 years old £5 Over 60 £14
CLICK HERE NOW TO BUY TICKETS FOR ANY OF THESE GAMES... 
* Calls cost 7p per minute plus your standard network rate