Dan Evans completed the second fastest half-century of appearances in the Ospreys' history on Saturday night, just 17 months and 21 days after his debut against Treviso at the Liberty Stadium.
Only Andy Newman has reached 50 quicker, taking just one week less than Evans

Jerry Collins is now third in the list, one day behind the full-back

Made his debut against Treviso on the opening day of 14/15 and has never missed a PRO12 game in his time with the Ospreys

Has played in 11 of the 12 games played by Ospreys in Champions Cup
The ever reliable full-back beat Ospreys legend Jerry Collins by a single day, the former All Black taking one day longer to reach his 50, incidentally also against Connacht.
Only second row Andy Newman has achieved the landmark quicker for the Ospreys, by one week, doing it in just 17 months and 14 days after his debut in the region's first ever competitive fixture, against Ulster back in September 2003.
The 27-year old Evans has proved Mr Reliable since arriving at the Ospreys from the Dragons, with 28 appearances in his first season, a year crowned with him winning the Supporters Player of the Year at the end of season dinner.
Involved in every single PRO12 during his time as an Osprey, he has also missed just one game in Europe over the course of the two seasons. He has already scored 10 tries for the region.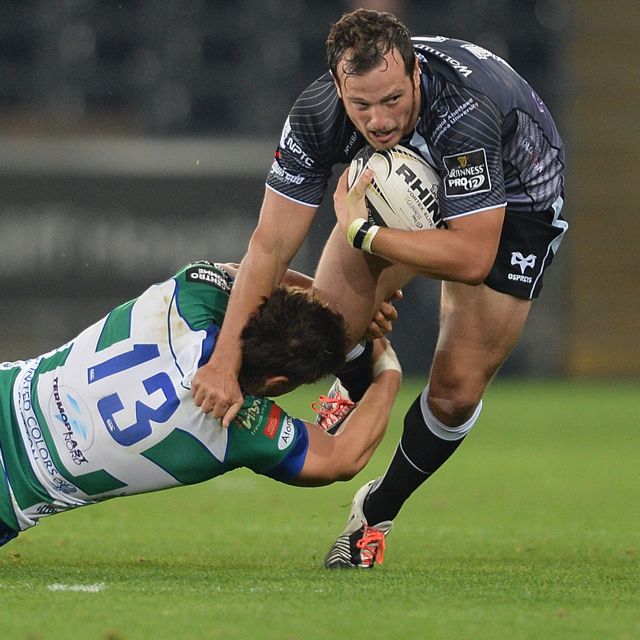 "I'm delighted to get to my 50th cap, and to do it in such a short period of time is even better" he said after Saturday night's defeat in Galway.
"I've been lucky with injuries and that's allowed me to keep on playing and fortunately the coaches have kept on picking me.
"I'm here to do a job for the team and it's been massive for me, to have the trust and faith of the coaches. Now I have to keep that, keep working hard and keep racking up appearances, doing my bit for the Ospreys cause. Hopefully there are plenty more fifties still to come.
"You don't really keep count as players, it's probably the last thing you think about going into games as you've got to focus on one match at a time. As you get close to a landmark you have people start saying to you it's coming up but you've got to keep it out of your mind as you never know what the next game has in store for you.
"I've done it now, I've got to 50 and I'm proud to have been able to have done it so quickly, but the next game is the most important one now, then the one after that, not what's been and gone."
Head Coach, Steve Tandy, paid tribute to Dan, saying:
"He's been a great signing for us, showing the consistency to establish himself as one of the form 15s in the PRO12. Coming to the Ospreys ahead of last season, one of his big motivations was that he wanted to learn and to develop, and he thought this was the place he could do that. He didn't come here thinking he was the finished article, and he's really thrived in our environment with that attitude.
"To get the second fastest 50 ever for the Ospreys says it all about Dan and his professionalism and consistency. The challenge for him now is to keep working hard to take his game up another couple of levels. We believe he's got the potential and ability to be even better and if we can help him do that then it will be great news for Dan and the Ospreys."
Reflecting on the defeat to Connacht, Evans admitted to frustrations at the manner of the loss, but insisted that the Ospreys can bounce back this weekend against Leinster.
"It was frustrating in so many ways" he said.
"We made a poor start, gave them easy outs and they scored plenty of points from our mistakes. We fought back well, something we've done a lot of this season, but then Sammy's try was a heartbreaking moment in the game, really disappointing. It was a game we could have won, maybe should have won.
"We've got to put that behind us now and take every game as it comes between now and the end of the season. It's Leinster next on Saturday, we knew before Connacht that we would have to get something in Dublin so that's not changed how we approach it.
"They are playing well, it's not going to be easy but we believe we've got the squad to go out there and get what we need. We'll have to be much better than we were against Connacht but that's the challenge."