Euro Commercials, one of Wales' leading commercial vehicle dealerships, has become an official programme partner of Ospreys in the Community.
As an official programme partner of Ospreys in the Community, Euro Commercials will support all the Foundation's sports related activity

Will provide two Mercedes Benz vehicles which will be used to transport equipment to schools and clubs visits, rugby camps and festivals

Euro Commercials already enjoys a long and successful partnership with Ospreys Rugby
A long term supporter of the Ospreys, under the new agreement Euro Commercials have signed up to assist the not for profit foundation, that works in communities across the region, in all its sports related activity.
The two-year agreement will see Euro Commercials providing two vehicles to be used by Foundation staff, enabling them to transport kit to school and club visits, large events and community festivals.
Paul Whapham, Foundation Manager, Ospreys in the Community said:
"Since our formal launch at the Liberty Stadium in November 2015 we have made huge strides as a Foundation already, with increased community engagement, sold out rugby camps and a successful relaunch of the Schools Programme.
"To facilitate that we have already grown our team to give us a far greater community presence and that is where the support of a community minded company like Euro Commercials is invaluable and we are delighted to welcome them as an official sports programme partner.
"We genuinely believe that it is essential that we are at the heart of the many unique communities that make up our region, that is something which is central to the philosophy of the Ospreys and everything we do. Teaming up with Euro Commercials, who share that outlook, is enabling us to be true to our vision, and the vans will be vital to us getting out and about to schools, clubs and communities day-to-day."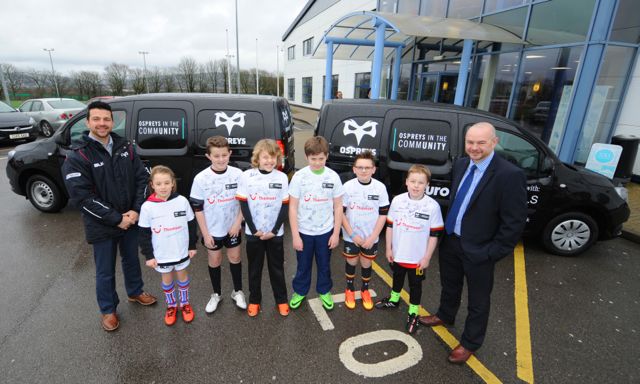 Euro Commercials, Mercedes Benz official commercial vehicle dealership in South Wales, already supply Ospreys Rugby with the official kit van, an impressive branded Sprinter 313CDI, used for carrying team kit, rugby and medical equipment to away games across the UK and Europe in the PRO12 and European Rugby Champions Cup. They also supplied a vehicle to the Premiership Select team for their B&I Cup campaign.
 Jeff Carne, Managing Director, Euro Commercials added:
''As a company, we are passionate about the products we sell and the service we offer our customers as we are driven to be the best. This passion extends to the on-going commitment we have made to the Ospreys and our partnership is very important to us.
"Euro Commercials takes pride in supporting the local community wherever possible. We are delighted that the Citan Crew van and the Citan Panel van provided will be able to facilitate such an innovative initiative. Long may we continue to transport the Ospreys' kit and equipment to the heart of the Welsh communities and beyond.'' 
Established since 1980, Euro Commercials has grown to employ over 170 staff today and provides Mercedes Benz trucks, vans, parts, service and repairs from its four depots situated across the Welsh stretch of the M4,
Recent investments include on site servicing and 24 hour opening (Mon-Friday) at two out of its three depots and the opening of a state of the art Van Center, Ipswich Road, Cardiff.
The company has a long-standing rugby link through Sir Gareth Edwards, who is a shareholder in Euro Commercials.
While sharing a strong relationship and forming a key part of the Ospreys' long-term business strategy, Ospreys in the Community operates on an entirely independent basis to the professional rugby organisation.
Working in conjunction with commercial partners, public sector bodies and third sector agencies to generate financial support and resources, the aim of Ospreys in the Community is to create a vibrant and sustainable Foundation that utilises the undoubted power of the Ospreys brand, and players, in a positive fashion, to harness social good and make an impact in communities.
It is envisaged that Ospreys in the Community will play an important part in improving many people's lives irrespective of age, ability or gender, a wide range of strategic partnerships enabling the creation and activation of innovative programmes that will be contained within four Strategic Themes; Education, Health, Sport, and Inclusion.