The Ospreys face Exeter Chiefs at Sandy Park on Sunday in the final round of the Champions Cup, with a place in the last eight up for grabs.
With the Ospreys leading the way in Pool 2 after five matches, following last weekend's memorable win over French giants Clermont Auvergne at the Liberty Stadium, the region goes into the game in pole position, knowing that the qualification scenario is a simple one – win and they progress to the quarter-finals for the first time since 2010.

POOL 2 – THE FINAL DAY
With all four clubs still in the qualification race, the permutations are endless in Pool 2. Keeping it easy, if the Ospreys (16pts) win at Exeter on Sunday they will top the pool and secure a quarter-final place, but if Exeter win, then it gets complicated.
A win for Clermont (14 points) against Bordeaux-Begles (11 points) at fortress Marcel Michelin might be enough to see them through, but the home team will certainly be targeting a bonus point. If Bordeaux pull off a shock victory and if Exeter win as well, then break out the calculators.
To make things a little easier to work out, the Pool 2 fixtures are the final games of the weekend so the picture should all become clearer, with all four teams knowing exactly what is required to secure qualification by the time they kick-off at 3.15pm on Sunday.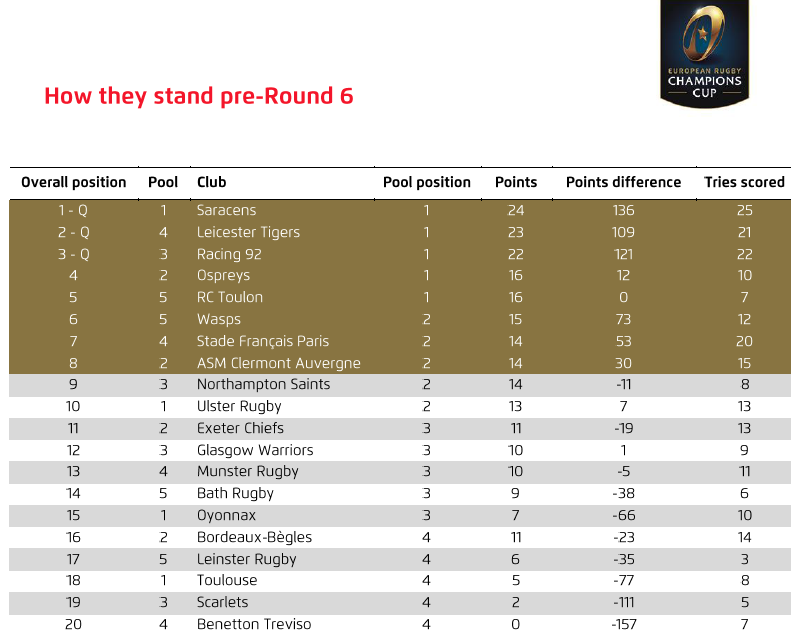 The five pool winners and three best-placed runners-up will qualify for the quarter-finals, and will be decided as follows:
(a) The pool winner will be the club with the highest number of match points in each pool. The best-placed runners-up will be the three clubs with the highest number of match points out of the five clubs that finish second in their respective pools. For the quarter-finals, the pool winners will be ranked 1st to 5th and the best-placed runners-up ranked 6th, 7th and 8th by reference to the number of match points earned.
(b) If ranking remains unresolved and/or if clubs have not played each other previously in the pool stage, qualification / ranking will be determined as follows:
(i) the best aggregate points difference from the pool stage; or
(ii) if equal, the number of tries scored in the pool stage; or
(iii) if equal, the club with the fewest number of players suspended; or
(iv) if unresolved, by drawing lots.
The clubs ranked 1 to 4 will have home advantage in the quarter-finals as follows:
Club 1 v Club 8 (QF1)
Club 4 v Club 5 (QF2)
Club 3 v Club 6 (QF3)
Club 2 v Club 7 (QF4)