Clarity Copiers have put their foot in it with the Ospreys this season – signing up to a new sponsorship deal that see's them become the first business to have their name on the team socks.
It's a commercial relationship that has grown rapidly since Clarity first enquired about taking a ground advertising board at the Brewery Field after which they took out player sponsorships with the Ospreys and big screen matchday advertising at the Liberty Stadium last season. 
Clarity has also become an official supplier to the Ospreys, providing a solution to their printing and copying requirements at the Liberty Stadium and Llandarcy.
Now, thanks to this latest agreement, Clarity has joined the select band of premium partners who feature on the Ospreys' iconic playing strip.
Yarnie Guthrie, Commercial Manager, Ospreys Rugby, said:
"Clarity Copiers are a great example of a local business from within our region who have worked hand in hand with us to grow a partnership from entry level through to becoming a premium partner and kit sponsor.
"It's been fantastic working with a progressive, forward thinking and successful Welsh company, in a relationship where both parties enjoy the mutual benefits of collaboration.
"This season, Clarity have continued to break new ground, socking it to us as the first business to sponsor this vital piece of matchday equipment."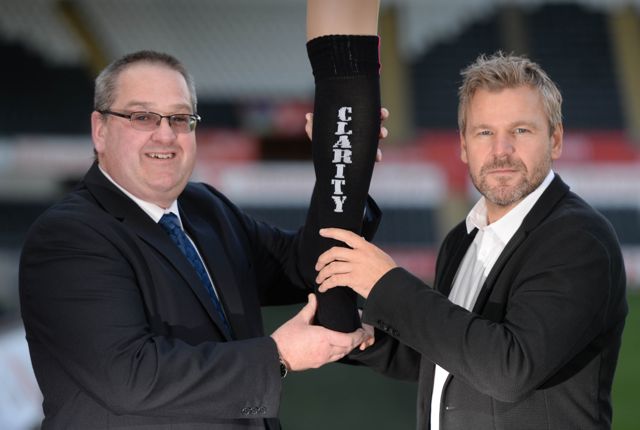 Warren Dryden, of Clarity Copiers, added:
"As a local business based in the Ospreys region we firmly believe in supporting our local community and local sports teams, from the grass roots up. From humble beginnings with the Ospreys, taking out a ground board, the relationship has developed into something far bigger than we could ever have anticipated.
"We've been fortunate enough to get an insight into how the Ospreys do business and the effort they put into growing rugby at grass roots level, and it is clear that we share similar community values. We are delighted to be working with them and proud to now be featuring on their kit for this season."
Clarity Copiers Glamorgan is a part of the Clarity Group, providing first class excellent copier/printer/scanning solutions for businesses across South and West Wales.
The largest independent retailer of SHARP copiers in Wales, Clarity are currently celebrating their 20th anniversary in Wales. They have four offices across the M4 corridor, a Head Office in Bridgend supported by field offices in Abercynon, Newport and Swansea.
PICTURED ARE WARREN DRYDEN & YARNIE GUTHRIE OF OSPREYS RUGBY