The Ospreys will face international opposition this summer when they head across the Channel for a special pre-season training camp in Belgium.
Ospreys to base themselves in Waterloo for a week long training camp this August

Belgian national team to take on an Ospreys XV on Friday 19th August

This year's Ospreys European Summer Camp will be held in Waterloo during the same week, hosted by Ospreys in the Community
Ospreys players and coaches to deliver specialists clinics for Belgian rugby

 
The fixture between an Ospreys XV and the Belgian national side on Friday 19th August will be the finale to a busy week of activity that will also include a series of rugby development events, including a residential training camp led by Ospreys in the Community, that will see over 200 teenagers from across Europe spending a week immersing themselves into the Ospreys culture.
ASUB Waterloo, one of Belgium's leading clubs and 15 time league winners, will host Steve Tandy and his squad, along with Ospreys in the Community, for the week. Training will be based at the Joli Bois complex, with ASUB's 3,000 capacity Complexe Sportif du Pachy hosting the match on the Friday evening. 
The Ospreys and ASUB have enjoyed a formal sister club relationship since the start of 2014, with both parties already working together commercially.
Jean Vandezande, ASUB Waterloo Commercial Director, said:
"It has been a long time in planning but we are very proud to be able to host Ospreys Rugby at our club this August. 
"Having been linked with the Ospreys since January 2014, this week is the culmination of everybody's efforts.  Although an amateur club we want to achieve " best practice" in sport and increase know how for coaches and players, something which the Ospreys relationship allows us to do. Sponsored by the LBFR league and the FBRB, the Belgian Rugby Federation, this is not only an ASUB event it is a Belgian rugby event.
"The week will also give a unique communication platform for Belgian companies promoting their brand in Wales, and Welsh companies wanting to do business in Belgium."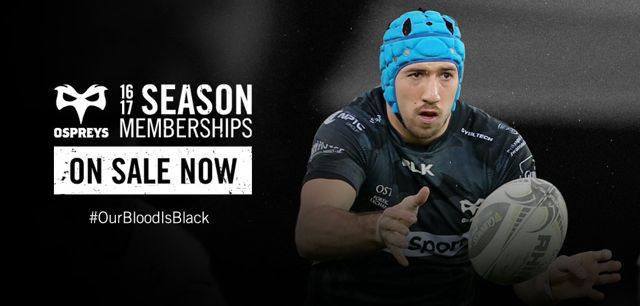 The European Summer Camp has been long established, operating out of Swansea University and bringing young rugby players from across the continent to Swansea. For the first time, Ospreys in the Community will deliver the camp offshore, with the entire OITC team travelling to Belgium for the week.
In addition to the Summer Camp, Ospreys coaches and players will deliver specialist clinics across the week for the Belgian Rugby Federation, while a gala dinner will be hosted at the historic farm of Mont-Saint-Jean, located on the battlefield of Waterloo.
Andrew Millward, Managing Director, Ospreys Rugby, said:
"Everybody at the Ospreys is looking forward to visiting ASUB Waterloo and enjoying the hospitality of Belgian rugby this summer. This is a fantastic opportunity for Steve and the coaches to take the squad away from Llandarcy for an intensive week of training, away from the distraction of everyday life, with a game at the end of it for the wider group to test themselves against an up and coming European rugby nation ahead of the new season.
"Just as important are the commercial opportunities that come from our organisation spending a week in Belgium, getting to know the business community that supports ASUB. 
"Rugby is a growing sport globally and our sister club relationships will assist us in our aims of remaining a force in the European game, while also helping with the development of rugby across Europe from grassroots up by replicating and implementing the very successful programmes we have in place at the region.
"The exchange of technical expertise will enable all parties to improve organisational, commercial and competitive capabilities. As we've seen with our partnerships in Italy, with rugby clubs, and commercially with the likes of FIOL and Franklin & Marshall, this collaborative approach can have huge benefits for all concerned.
"We look forward to visiting Belgium for a week that can have a big impact on preparations for next season."
The Ospreys XV will play Belgium at Complexe Sportif du Pachy, ASUB Waterloo, on the evening of Friday 19th August. Admission will cost between 10 Euros and 15 Euros, you can reserve your tickets or enquire about hospitality now by emailing Laurence_asub@hotmail.com.
There are around 60 amateur clubs in Belgium, with more than 13,000 registered players. Belgium are currently 23rd in the World Rankings having recently won promotion to the European Nations Cup Division 1A, where they will now compete alongside Georgia, Russia, Romania, Germany and Spain.
Ospreys pre-season schedule
Leicester Tigers (H) W/E of 12/13/14th August (Date & Time TBC)
Belgium (A) Friday 19th August, KO 7.30pm (Local time)
Leicester Tigers (A) Friday 26th August, KO 7.45pm