In what promises to be a Championship campaign that breaks new ground, Dublin has been chosen as the host city for this season's Guinness PRO12 Final on May 27, 2017.
Aviva Stadium to host the Guinness PRO12 final on 27th May

Tickets on sale now with Earlybird savings of up to 20% if bought before 2nd January

Guinness confirm new four year sponsorship of the league until 2020

PRO12 chairman, Gerald Davies, hails revealing statistics that show the league has most ball in play time and least penalties  
Aviva Stadium will provide the setting for the third Guinness PRO12 'Destination Final' following on from the successes of the previous deciders held in Belfast and Edinburgh in 2015 and 2016, respectively. Tickets are already on sale and fans can save up to 20 per cent by availing of Early Bird rates if they purchase before January 2, 2017 at Ticketmaster.ie.
In addition, PRO12 Rugby announced that Guinness will continue as title sponsor for another four years until 2020 which continues the strong partnership with the Championship that began in 2014.
Speaking at the 2016/17 launch event at Aviva Stadium, Martin Anayi, chief executive of PRO12 Rugby, said: "After the successes of the finals hosted in Belfast and Edinburgh, Aviva Stadium will provide another grand stage that rewards clubs, players and fans from across the Championship.
"Since it's redevelopment in 2010, Aviva Stadium has fast become an iconic rugby arena and after a thrilling final at BT Murrayfield between Connacht Rugby and Leinster Rugby that set a new attendance record, it seems only right that we should try to raise the bar yet again here in Dublin."
Anayi continued: "We're thrilled to have Guinness on board for another four years and their continued support is a testament to the strength of our Championship which gets better with every passing season. Sponsors like Guinness also appreciate that we have a 'Fan First' philosophy and that is why we have put on this Early Bird offer to reward supporters who want to book their place at the final on May 27."
Gerald Davies, chairman of PRO12 Rugby, noted that the inventive style of play that the Championship prides itself on has been backed up by statistics gathered by World Rugby. The analysis showed that when it came to average ball in time play across the 2015/16 season, the Guinness PRO12 scored the highest when compared to all club and international tournaments, while the Championship also had the least amount of penalties conceded among the top leagues in Europe.
Davies said: "You only have to look at the adventurous styles from our two previous champions, Glasgow Warriors and Connacht Rugby, to see the positivity that exists within our coaches' rugby philosophies. It is also heart-warming to see future internationals and British & Irish Lions start their careers in our Championship as they stand side by side with the biggest names of our game."
Oliver Loomes, Country Director, Diageo Ireland, said that Guinness were looking forward to building on the strong relationships that had already been forged in the first two years of their title sponsorship of the Championship.
"Guinness has a longstanding heritage in rugby at all levels, and I'm thrilled to announce that we have extended our partnership with PRO12 Rugby until 2020, continuing our commitment to the sport we all love," Loomes said.
"The Guinness PRO12 is one of the most competitive and exciting competitions in world rugby. Last season we saw some brilliant rugby as Connacht Rugby claimed the trophy following a nail biting final at BT Murrayfield. We are looking forward to enjoying some more epic encounters with the best teams from Ireland, Scotland, Wales and Italy and are delighted that the Final is taking place at the Aviva Stadium in Dublin, the home of Guinness."
GUINNESS PRO12 Final 2017 - Ticket Information
27 May 2017, Aviva Stadium, Dublin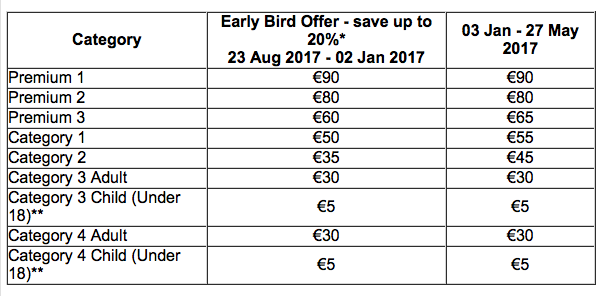 TICKETS AVAILABLE FROM: www.ticketmaster.ie or by calling the following numbers (call costs vary depending on the operator):
Republic of Ireland Customers: 0818 719 300; UK (Including Northern Ireland) 0844 847 2455
International Customers: 00 353 1 456 9569
* Early Bird offer based on prices increasing from 03 Jan 2017, limited ticket categories and subject to availability. All tickets subject to Ticketmaster.ie terms and conditions: http://www.ticketmaster.ie/legal/
** Child ticket must be purchased with adult ticket. Child must be accompanied by adult.