Tyler Ardron and Rory Thornton have helped Aspire2Be, official partners of Ospreys in the Community's Schools Programme, to launch their new Ambassador Programme.
The duo attended a special launch event at the Liberty Stadium, where the first three Aspire2Be Ambassador's were unveiled. The trio of 15-year olds,  Grace Clement, Lauren Evans and Jamie Apperley have all been identified as young athletes with potential and, thanks to Aspire2Be, they will receive financial support, digital skills development and personal development opportunities, along with support from nutritionists and performance analysts to help them achieve their goals. 
Paul Whapham, Ospreys in the Community, said:
"Aspire2Be provide the digital support and technical know-how that has allowed us to transform our highly regarded schools programme, reaching even more primary schools across the region than ever before.
"Like us, Aspire2Be are passionate about supporting young people and helping them achieve their full potential. The Ambassadors Programme will see them providing guidance, assistance and support to three local teenagers who have great potential and sporting aspirations and is to be admired. It was fantastic for someone like Rory, who is himself a young, local sportsman pursuing his ambitions as a professional rugby player, or Tyler as captain of his country, to meet with the three at the Liberty Stadium and provide encouragement. 
"The best of luck to Jamie, Grace and Lauren for their sporting futures from everyone at Ospreys in the Community."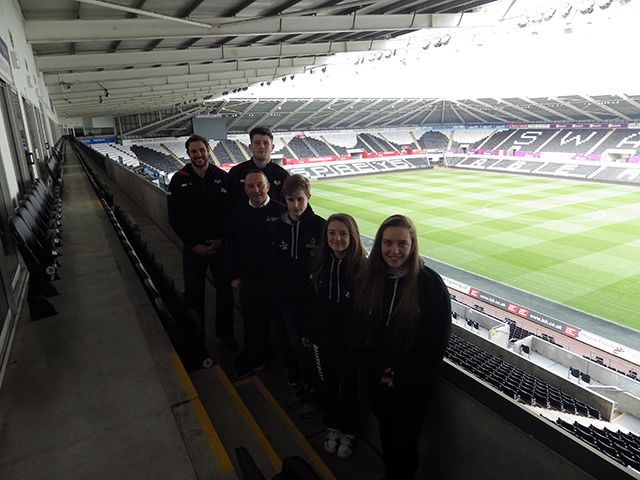 Pictured are the three Aspire2Be Ambassadors with Rory, Tyler and Simon Pridham from Aspire2Be
ABOUT THE ASPIRE2BE 2016 AMBASSADORS
Jamie Apperley
Jamie was born in London and has lived in South Wales since the age of two. He is fifteen and is currently studying for GCSE level qualifications at Brynteg comprehensive school, Bridgend.
Jamie has played for his local football team Pen y Fai since the age of four, captaining them since the age of ten. His usual position is attacker midfield and Jamie is also keen to develop his leadership skills, often leading and developing training sessions for the team. Jamie has been part of the Swansea City Development Squad and  also represented South Wales at the 2015 Cymru Cup.
He currently trains with and plays for Penybont Academy under 15's and also represents the under 16 team as well. He is currently training with the Boys Club of Wales and will be representing Wales in games against Scotland and Germany over the coming months. Football is Jamie's passion and he hopes to continue playing the game at the highest level and in turn is seeking to gain a professional contract. 
Grace Clement
Grace has been playing table tennis for two and a half years, for Penlan in the Swansea League.
After about a year she was selected to join the Welsh Development Squad and, in January 2015, was selected to play for Wales in the Euro Challenge in Cardiff. That same weekend she had the privilege to play against Malta.
Building on this Grace was selected to play for Wales in the International Schools competition and in June 2015 she received a special award in for being an outstanding personality in the sport. She trains at home as well as receiving has one to one training in Mumbles and trains nationally in Cardiff once a week. April 2016 will see Grace represent Wales in Guernsey in the schools internationals.
Lauren Evans
Ger chosen sport is Olympic Weightlifting. She first started weightlifting whilst living in New Zealand after visiting a local gym with friends who were visiting from Wales.
It was the first time she had tried the sport and soon fell in love with it because Lauren feels it teaches her discipline and determination also it makes her much stronger and fitter. It also made her improve her diet and nutritional intake.
When Lauren moved back to Wales she went out and found a local Crossfit and weightlifting gym. The coaches there have improved her lifting so much that she recently competed in the Welsh Schools Competition where she won Gold. In the next 7 months Lauren is hoping to compete in more competitions and build towards being part of the Welsh Olympic weightlifting team, leading eventually to the Commonwealth Games.
To find out more and to follow the trio's progress visit http://www.aspire2be-ambassadors.co.uk