Winger Jay Baker has signed a development contract with the Ospreys after making a huge impact with Aberavon, culminating in the 24-year old receiving the Premiership Newcomer award last month.
24-year old handed an opportunity after picking up Newcomer of the Year Award in his first full season of Premiership rugby

Has played for Baglan, Bridgend Athletic and Cwmavon

"He has made huge strides both on and off the field in the past twelve months and this is his reward" 

said Wizards Chairman, Andrew John
A flying winger with pace and power, Baker has come through an unorthodox route to regional rugby with just the one full season in the Principality Premiership behind him, but he has been hailed as having "all the raw ingredients needed to become an Osprey".
Hailing from Baglan originally, he first played rugby at his local club before a family move to Bridgend saw him link up with Bridgend Athletic where he played alongside the likes of Tom Grabham and Tom Habberfield as a teenager. Having dropped out of rugby in his latter teens, he eventually took up the sport once again in his early twenties, his performances for Cwmavon catching the eye of Aberavon.
He made a handful of appearances for the Wizards during the 2013/14 season and, after injury sidelined him for most of the following season he signed for Aberavon ahead of 2015/16 where his eye for the tryline saw him score 10 tries in 18 games, taking his total for the club to 13 from 24.
In addition to his newcomer award he was also shortlisted for Premiership Player of the Year.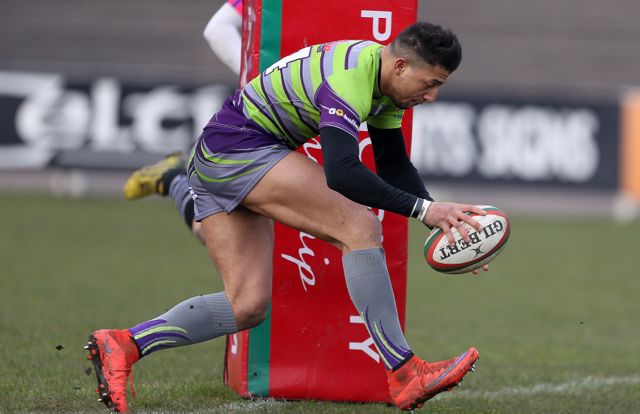 Having impressed at semi-pro level he has now been handed an opportunity to train daily in a professional environment, allowing him the chance to establish himself at the next level.
"I'm looking forward to the new challenge" said Baker.
"I'm just going to give my best, give my all, and hopefully I can achieve here. It's a great opportunity for me and I'm excited but nervous. I know there is a lot of hard work ahead of me but I'm grateful to Aberavon for giving me an opportunity and grateful to the Ospreys for allowing me to give this a go. Hopefully I'll repay the faith in me."
Ospreys Head Coach, Steve Tandy, said:
"Jay has raw talent, as he's shown over the last 12 months. We are looking forward to seeing how he copes with making that next step, being in a full-time professional environment.
"He knows that this is just the start for him, but he has all the raw ingredients needed to become an Osprey if he applies himself correctly. He's physical, he's got pace and power, attributes you want in a winger. Now he has an opportunity to develop himself.
"It's going to be interesting to see how he reacts but he knows that he is going to have our full support on and off the field to help him achieve his potential. We talk about our development pathway, but Jay is someone who has followed a more unusual route. If you perform at club level, you can progress through the Premiership to regional rugby. Now that he's got his chance, it's up to him to make the most of it." 
Baker joins the Ospreys with the best wishes of Aberavon as he strives to be the next in an ever-growing line of Wizards to excel with the region. Andrew John, Aberavon Chairman, said:
"I'm delighted for Jay that he has signed his first Ospreys contract and wish him well on behalf of everyone at Aberavon RFC. He has made huge strides both on and off the field in the past twelve months and this is his reward. He is a special talent and the opportunity is there now for him to grasp with both hands and progress further in a professional environment."
Those comments were echoed by Aberavon Head Coach, Jason Hyatt, who added:
"Jay is a naturally talented rugby player, who looks dangerous every time he receives the ball. Through hard work and ability, Jay has earned this exciting opportunity to continue his development within a fully professional environment at the Ospreys.
"Jay is a great example to all young rugby players who may not be selected for regional age grade squads or academies, don't give up on your dream, work hard and play with spirit and you will earn your chance."