Ospreys Wine Club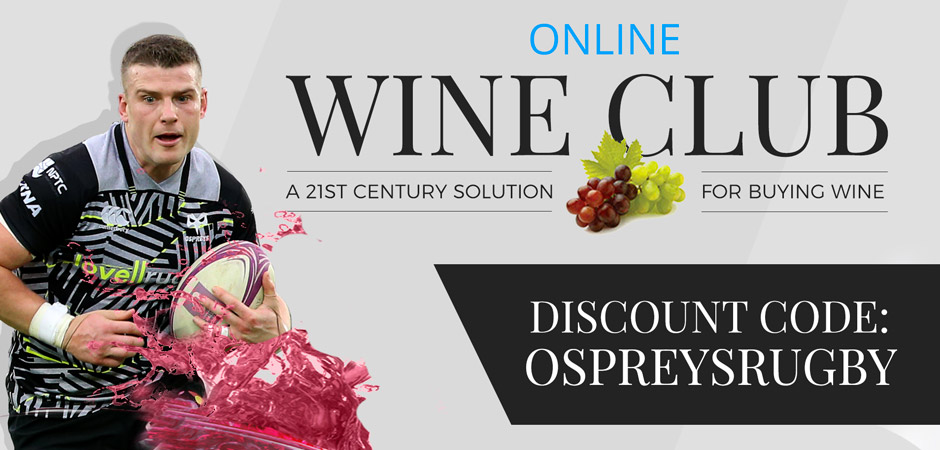 Singolo Vino are proud to be partnering with Ospreys to create an Online Wine Club. Offering 24-hour delivery (order by 4.00pm) Monday to Friday. Saturday delivery subject to a small additional charge.

Ospreys fans will benefit by receiving a discount by using code: 'OSPREYSRUGBY'. Plus with every purchase made you will directly be supporting Ospreys Rugby by the Club receiving a commission on every sale – meaning that by simply enjoying a glass of your favourite tipple, you can back the men in Black and White.
An introductory offer will run for the first four weeks allowing Ospreys Supporters to get £10 off your first order use promo code LAUNCH10 at checkout.

Throughout the season we will look to run promotional offers to ensure you kick start your summer, help you host the best BBQ or simply stock up for Christmas.

Plus benefit from:

• No monthly subscription
• No minimum monthly spend
• Discount on all wine on Singolo Vino website
• Good quality wine at affordable prices
• Generating revenue for your club
• Free delivery on orders over £120
• 24-hour delivery (if an order is received by 4.00pm) Monday to Friday

The Ospreys Rugby online wine club offers Ospreys supporters a discount on all wine across the Singolo Vino range.

To take advantage of this superb offer, please select Ospreys as your club at the checkout by Clicking Here.