First Time Fan Guide
First time at the Swansea.com Stadium? Here's everything you need to know before you visit. We can't wait to have you with us as our 16th man in the stands!
 
Ospreys and the Swansea.com Stadium
Ospreys play in the United Rugby Championship against teams from Scotland, Ireland, Italy, France and South Africa. Find out more about the history of the club here and see our current squad here. 
Our home games are played at the Swansea.com Stadium in Swansea, South Wales.
 
Fixtures and tickets
You can see all of our upcoming fixtures here. Choose a game and come on down to experience live rugby at an Ospreys matchday. 
The first and most important thing you'll need is your ticket. Tickets can be purchased in person at the ticket office at the stadium. However, the ticket office is busy on matchdays, so we recommend buying online before your trip at eticketing.co.uk/ospreysrugby/.
You can also purchase tickets via the Ospreys App. Tickets purchases on the app can be added to your wallet on your phone. For more information, click here.
Or, you can phone the ticket office on 01792 616400 (please press option 1.)
 
Getting to the stadium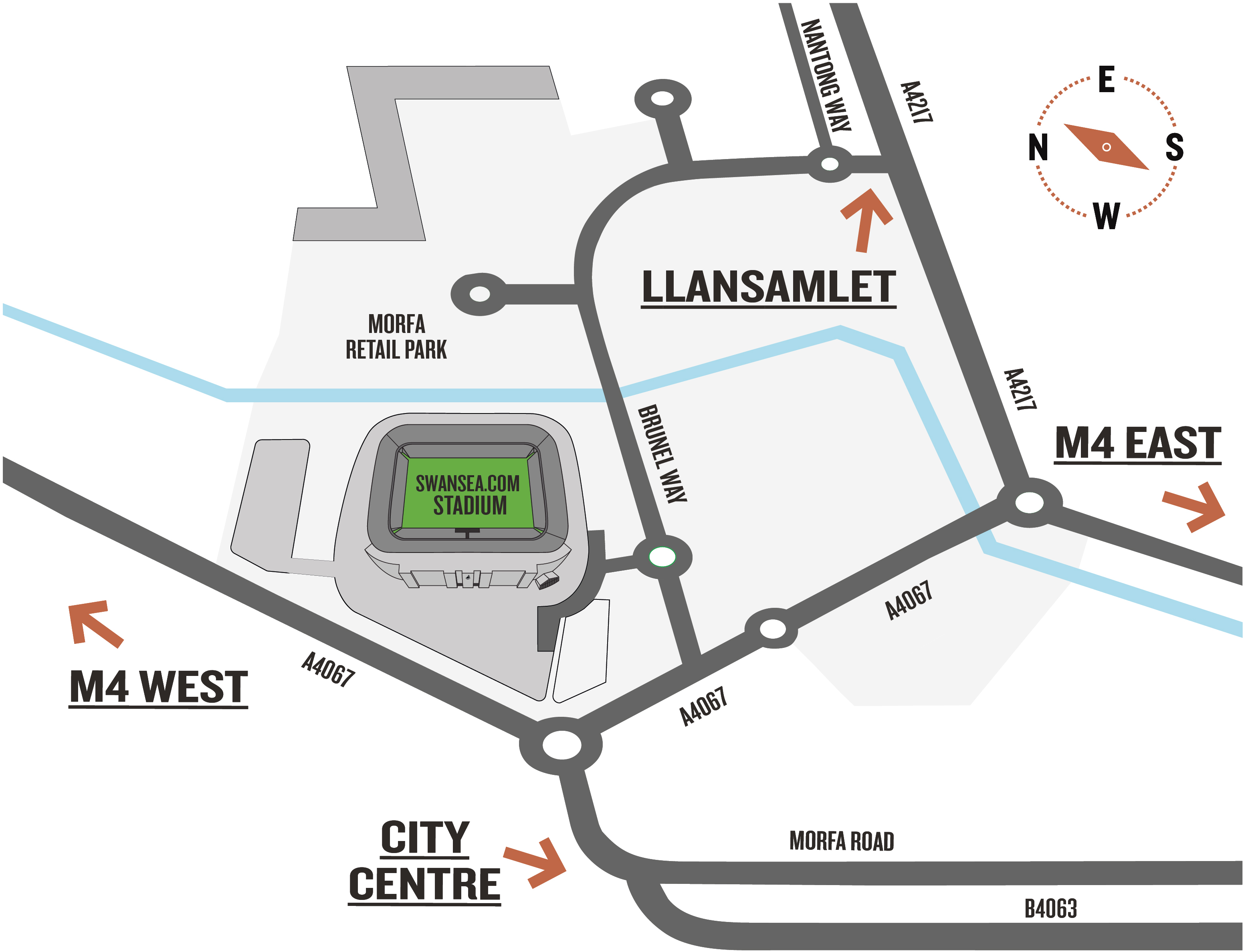 By Car - Postcode: SA1 2FA. The Swansea.com Stadium is located next to the Morfa Retail Park. Exit M4 via Junction 45 and take the A4067 South towards the City Centre for approximately 3 miles.
By Bicycle - There are 15 bicycle bays located externally at the South-East corner of the Swansea.com Stadium. Visitors wishing to use these are required to provide their own secure bike locks.
By Train - Swansea Train Station (High Street) is located 1.4 miles from the stadium and is approximately a 20-minute walk. You can plan your journey and purchase tickets here.
By Bus - There is a bus service across the road from the train station and the 4/4A bus runs directly to the Swansea.com Stadium. The fares are £2 (single journey) or £3 (return journey). Check out the latest bus timetables here. 
By Taxi - There are a number of taxi firms operating in Swansea and supporters may find the following numbers useful.
Yellow Cabs – 01792 644446/ 01792 700400
Oyster Cabs - 01792 367777
Data Cabs - 01792 474747
 
Parking
There is limited parking available at the stadium for £12 per car, available on a first come first serve basis. 
Landore Park and Walk is a 3 minute walk to the stadium and can be purchased on the day at £5 per vehicle, subject to availability. The Park and Walk sites open two hours prior to kick off and close up to 2 hours after the final whistle. Visitors are advised that some of this car park's surface will be gravel. Park and Walk Post code: SA1 2JT. Find directions here. 
 
At the stadium
The map below illustrates the difference sections of the Swansea.com Stadium. We are a cashless venue with card accepted throughout the ground. This leads to shorter queuing times with a fast, friendly service at all kiosks.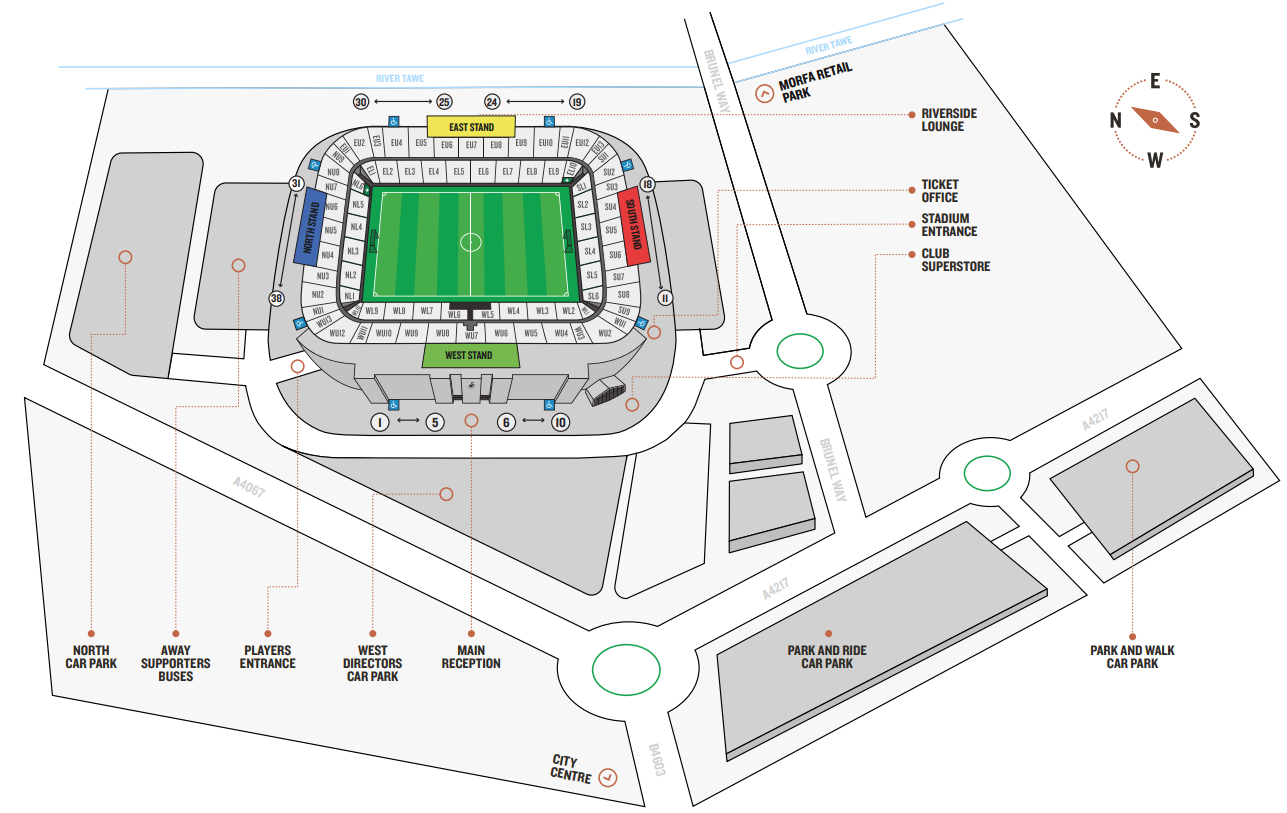 Entry and Accessibility
On matchdays, turnstiles open 90 minutes before kick-off. When you're ready to enter the stadium, please have your ticket ready to be scanned. You should enter the stadium via the turnstile shown on your ticket. Arrive early so you don't miss a minute of the action!
Each set of turnstiles has an accessible entrance. If you require the use of this entrance, please speak to a steward. For other accessibility queries, please see the stadium website.
 
Club Shop
Our club shop is located in the West Stand. The opening hours are usually 9.30am – 5.30pm, Thursday to Saturday. However these are subject to change due to football and rugby fixtures. We urge anyone planning to visit to check the opening hours before travelling to the shop.
Before heading through the turnstiles, why not take a look around to view the latest Swansea City goodies and merchandise? On match days, the shop opening hours and player appearances will be advertised in our Match Day Guide and on social media. 
 
Food and Drink
Supporters are able to purchase food and refreshments in the concourses with a range of drinks, snacks, and meal options to enjoy.

Babies and Toddlers
Baby changing facilities are located on all concourses. If you cannot locate them, please contact a steward who will be able to assist.
 
The Ozone
The Ozone is located in the South Stand concourse and is a hive of activity aimed for families and young Ospreys.
You'll find our entertainers, face painters, inflatables and lots of other activities all overseen by our amazing Ospreys in the Community team. Check Match Day Guide and social media before a game to find up-to-date details of all the fun on offer.
 
Questions?
We're always here to help, whether it's your first visit or you're a seasoned Ospreys fan. Email the team on info@ospreysrugby.com or give us a call 01792 616500.